Our sympathies go out to the family of Kalei Welch, who died in an Illinois hospital after falling ill with E. coli poisoning. Health officials believe that the 5-year-old girl contracted the deadly bacterial infection at a petting zoo at the Hendricks County Fair.
PETA has been warning parents for years about the dangers of petting zoos, which are hotbeds of E. coli. Hundreds of children have been infected after visiting petting zoos, and many have suffered kidney failure, requiring long-term dialysis and multiple blood transfusions.
Infection can spread through direct animal contact or simply by touching the surroundings near an animal exhibit. Hand sanitizer does nothing to prevent the spread of E. coli by inhalation or indirect contact. The Centers for Disease Control and Prevention as well as many state departments of health have issued warnings about the health risks of petting zoos.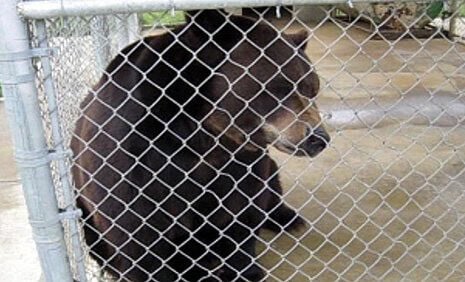 These displays are bad for animals too. Case in point: North Carolina's Jambbas Ranch is notorious for keeping animals in substandard conditions, including a lone neurotic bear named Ben.
Please ask North Carolina officials to keep people and animals safe by refusing to reissue Jambbas owner James Bass' wildlife-captivity license and endangered-species permit.

Written by Jennifer O'Connor