On the eve of the Kentucky Derby, two legislators who agree with PETA that too many horses are breaking down and dying on America's racetracks have introduced bipartisan House and Senate bills that, if passed, could spell the end of horse racing in the U.S.
The legislation, introduced by Senator Tom Udall and Representative Joe Pitts, would repeal the Interstate Horseracing Act, which allows betting across state lines and by phone and on the internet. Ninety percent of the $11 billion wagered annually on horses comes from this form of betting, and without it, the racing industry would collapse.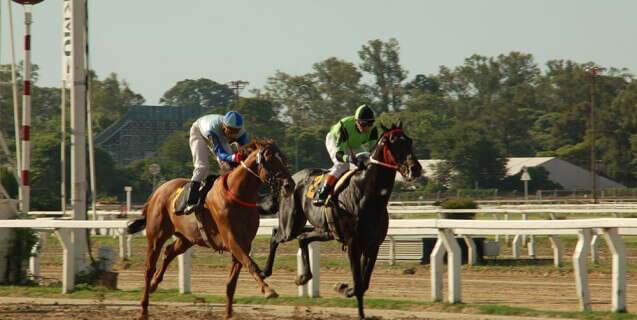 Prompted by the horrifying death of Eight Belles, who broke both front legs at the end of the 2008 Kentucky Derby, PETA has been aggressively campaigning to reform this cruel industry. We have documented one cruelty after another, from forced speed trials that break fragile young bones to the export of burned-out Thoroughbreds to slaughterhouses in Canada and Mexico.
Chronic abuse of performance-enhancing drugs is commonplace and almost every horse is given race-day medication, which has been banned in other countries.
But nothing is more troubling than the failure of the Kentucky Horse Racing Commission to take any action on PETA's investigation of trainer Steve Asmussen. When presented with evidence that Thoroughbreds are medicated on a near daily basis to enhance performance and mask pain and injuries with a spectrum of drugs such as sedatives, muscle relaxants, anti-inflammatories, and even thyroid medication, Kentucky officials have not taken one step to protect these animals. For this reason, PETA welcomes the legislation.
"[The horseracing industry is] plagued by too many unscrupulous trainers, owners, veterinarians and other race track officials who race sickened or injured horses, pumping them full of painkillers or other performance-enhancing drugs in order to try to win at all costs," said Congressman Pitts. "Since 2008, over 7,000 race horses have died on America's racetracks. It's past time to put measures in place that protect racehorses from abuse at the track."
Racing misleads bettors and kills horses, and if repealing the Interstate Horseracing Act is what it takes to end the drugging, breakdowns and death, PETA is all for it.
"Out of sight of the spectators in the grandstand, 19 of the 20 horses competing in this year's Kentucky Derby will be injected shortly before post time," said Senator Udall. "[T]he industry does little in response to scandal after scandal. It's time to crack down on corruption by ending horseracing's sweetheart gambling privileges. We must stop the abuse…"