Chimpanzees are highly intelligent and emotionally complex individuals who mourn their dead. Yet for decades, Hallmark and American Greetings have profited from using demeaning, clownish images of them on their greeting cards, even though chimpanzees are at risk of extinction—and could disappear within our lifetime, according to Dr. Jane Goodall—because of habitat loss and the global exotic-animal trade. 💔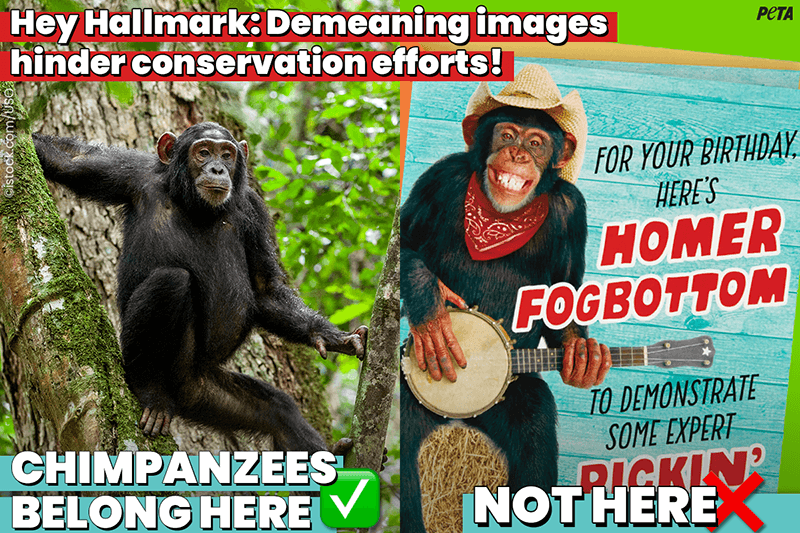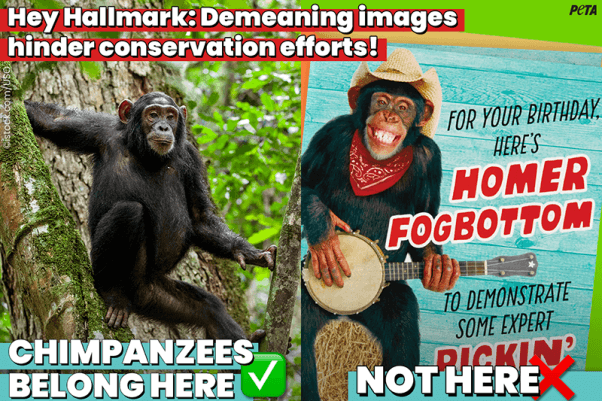 Studies have shown that inaccurate portrayals of chimpanzees in the media—such as when they're forced to wear clothing or accessories, displayed in a studio, or made to interact with humans—actually hinder conservation efforts, leading consumers to believe that chimpanzees are thriving rather than endangered. These portrayals increase the black market demand for them and other endangered great apes as "pets," which is one of the main forces driving them toward extinction.
Dr. Jane Goodall says chimpanzees may face extinction within our lifetime.

When companies like @amgreetings use demeaning images of them on cards, it leads people to believe that chimpanzees are not endangered, which is harmful to conservation of the species. pic.twitter.com/EjPuxZlrjA

— PETA (@peta) February 11, 2021
Rite Aid, Walgreens, and CVS have taken action to remove such damaging greeting cards from store shelves, and top stock-image agencies like Getty Images, Shutterstock, and Dreamstime are banning unnatural images of primates. ❤️ Continuing to exploit endangered chimpanzees for profit is a form of speciesism—a human-supremacist worldview.
Please join PETA in urging Hallmark and American Greetings to retire all images of chimpanzees and other great apes used on their cards by taking these four steps:
1. Politely contact the companies on social media.
COMMENT ON AMERICAN GREETINGS' FACEBOOK PAGE
2. Send an e-mail to Hallmark CEO Mike Perry and American Greetings CEO Joe Arcuri.
3. Use the forms at the links below to remind the companies that cards exploiting great apes are harmful.
4. Call the companies and politely tell them that using demeaning images of chimpanzees and other great apes on greeting cards is pushing these animals toward extinction.
Note: Please call during business hours, which are Monday through Friday from 9 a.m. to 5 p.m. ET, at 1-800-711-4474 (press 5 and then press 1).
Note: Please call during business hours, which are Monday through Friday from 9 a.m. to 5 p.m. ET and Saturday and Sunday from 11 a.m. to 7 p.m. ET, at 1-800-425-5627 (ask for a representative).
Please let us know how your call went below. By submitting this form to PETA, you are not taking action or contacting the company. This is a feedback form to help us improve the call-in experience.
By submitting this form, you are agreeing to our collection, storage, use, and disclosure of your personal info in accordance with our privacy policy as well as to receiving e-mails from us.