PETA went undercover at Warm Springs Ranch in Missouri (the official breeding facility of the Budweiser Clydesdales), visited Grant's Farm (where the horses are trained), and talked to handlers who travel with teams of the adult horses. We documented that Anheuser-Busch, which produces Budweiser beer, amputates the tailbones of the famed Clydesdales—primarily so they'll look a certain way as they pull the company's wagon.
Equines subjected to tail amputation can't properly protect themselves from flies or other biting insects, which could increase their risk of being infected with West Nile virus or other pathogens transmitted via insects. Horses also depend on their tails for communication and balance, and removing even part of them limits these functions. Tailbone amputation is so painful and harmful that many European countries have completely banned it, as have 10 U.S. states (except when it's medically necessary).
Please take the three steps below to tell Budweiser to stop severing Budweiser Clydesdales' tailbones.
1. Blast Budweiser on social media. Save the image below and post it on Instagram, Facebook, or Twitter with the hashtags #YoursToTake and #FollowTheHitch:
Hey @Budweiser, horses' tailbones aren't #YoursToTake! Stop amputating Clydesdales' tailbones! #FollowTheHitch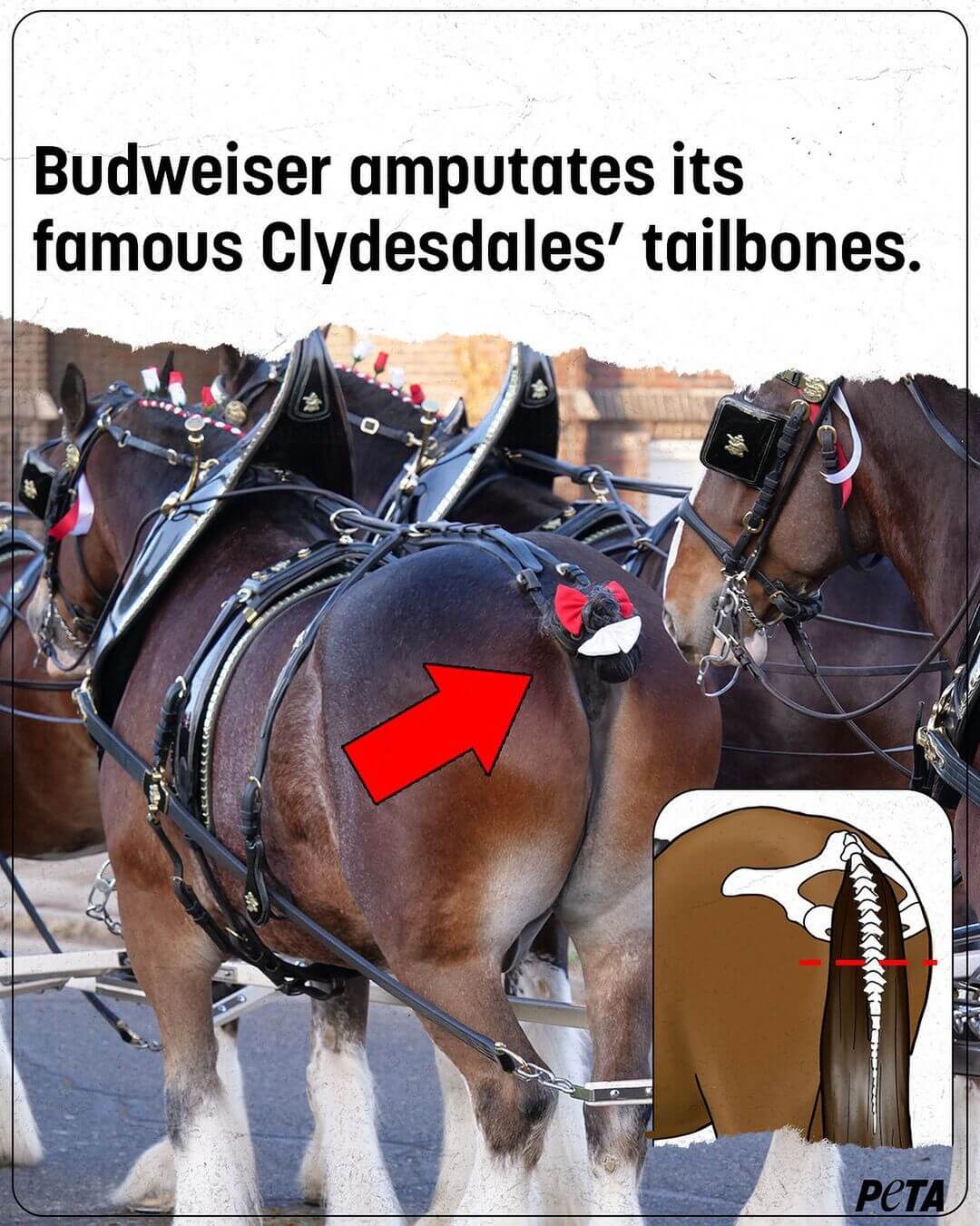 2. DM and comment on the following social media accounts:
Comment on Anheuser-Busch InBev's Twitter Page
Comment on Budweiser's Instagram Page
Comment on the Budweiser Clydesdales' Facebook Page
Comment on Warm Spring Ranch's Instagram Page
3. Call Budweiser at 1-800-DIAL-BUD (1-800-342-5283), select option 3, then 2, and then 0. Politely tell it to stop amputating horses' tailbones.
Here are some talking points:
I won't purchase Budweiser beer until the company commits to ending its practice of tail docking.
Amputating a horse's tail is so cruel that this needless cosmetic procedure is prohibited in 10 U.S. states and several countries.
By mutilating the Clydesdales' tailbones, Budweiser robs these horses of their main defense against biting insects.
The Clydesdales are mutilated primarily so they'll look a certain way, and severing their tailbones is extremely painful and inflicts irreversible harm. Please end your participation in this cruel practice now.
Call Budweiser at 1-800-DIAL-BUD
Tell us about your call:

By submitting this form, you are agreeing to our collection, storage, use, and disclosure of your personal info in accordance with our privacy policy as well as to receiving e-mails from us.