On Tuesday, January 10, the Knoxville City Council will consider two competing ordinances that will determine the fate of countless dogs who are chained 24/7. One ordinance proposes prohibiting unattended and continuous tethering—but the competing ordinance would allow tethering under certain conditions and encourage residents to put dogs on runs or trolley systems, in which they could easily get tangled or hang themselves.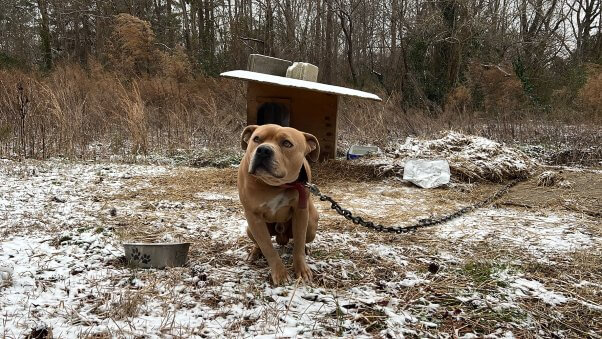 Chained dogs are often found without access to drinkable water or sufficient food, or they're tangled up and unable to reach shelter. Dogs kept outdoors in Tennessee's extreme temperatures are at risk of enduring slow, painful deaths, as in the case of the dog suspected to have frozen to death in Manchester or that of the dog who died in June after being kept outside without food or water in Knoxville.
Dogs are social pack animals, and when they're continuously isolated, they often become territorial and aggressive. According to a study coauthored by two Centers for Disease Control and Prevention physicians, chained dogs are nearly three times more likely to attack than dogs who aren't kept tethered. Victims of chained-dog attacks, including several in Tennessee, are most frequently small children or the elderly.
Please take the following two steps to contact your Knoxville City Council members and urge them to vote "yes" on the ordinance to prohibit continuous and unattended dog tethering.
1. E-mail all three "at-large" members by clicking here.
2. E-mail your district representative using the links below.
Please feel free to use our sample letter, but remember that using your own words is always more effective.