This has been a rough year for everyone because of the COVID-19 pandemic, which has caused lockdowns around the world, but it's undoubtedly been especially hard for Minnie, the elephant forced to live alone by R.W. Commerford & Sons Traveling Petting Zoo, based in Connecticut. She has been without the companionship of another elephant since Karen and Beulah died in 2019.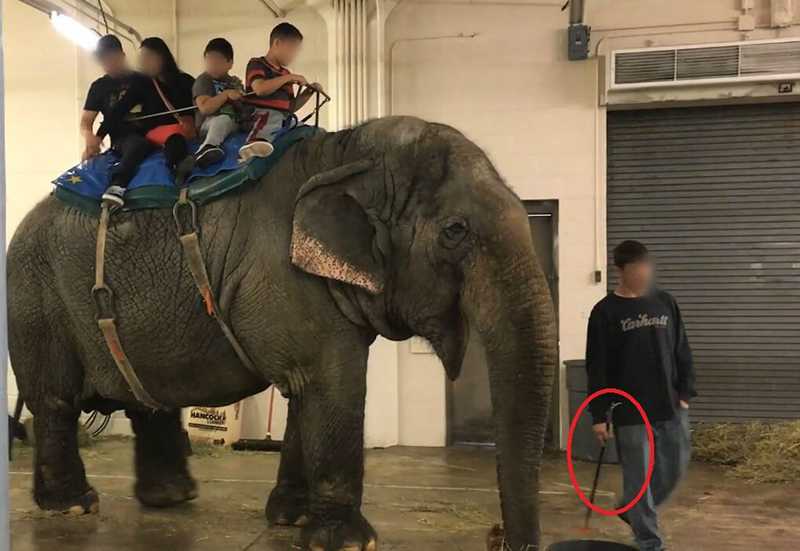 Beulah's handler seen here holding a bullhook.
The public was outraged by the news of Beulah's tragic death at The Big E fair in Massachusetts. She had been carted around and exploited at different fairs until a uterine infection poisoned her blood, causing her to suffer from sepsis and shock until she collapsed and died. The U.S. Department of Agriculture reportedly confirmed that Karen had died just a few months prior, leaving Minnie as the sole elephant exploited by Commerford.
Elephants are highly social animals who protect one another, forage for fresh vegetation, play, bathe in rivers, and share mothering responsibilities for the herd's babies. Their ability to feel pain—as well as sorrow, joy, and happiness—rivals our own. Commerford's choice to exploit Minnie and other animals is a form of speciesism—the belief that humans are inherently superior to other animals based solely on species membership.
Please urge Commerford to release Minnie to an accredited sanctuary!
Send polite comments to:
Commerford Family
[email protected]
Please feel free to use our sample letter, but remember that using your own words is always more effective.