Host a 'Change for Chained Dogs' Fundraiser at Your School
Right now, countless dogs are chained outside, struggling to survive long days and nights without proper shelter from the elements. Often, these loving animals are also deprived of adequate food, water, and veterinary care and are forced to spend their lives in "solitary confinement," relegated to the backyard without any companionship or exercise.
You and your students can help these chained "backyard dogs."
Raising money for dogs in need has never been easier: TeachKind has a "Change for Chained Dogs" fundraising pack created especially for teachers to use in their classrooms! Dogs who are chained up outside desperately need durable shelter to keep them dry—and with your help, TeachKind can support PETA's efforts to construct and deliver hundreds of sturdy custom-built doghouses filled with straw bedding to help dogs whose "owners" won't let them live indoors or relinquish them to caring people who will. These doghouses will provide dogs with protection from snow, rain, and harsh winds for years to come—and your students will be proud to know that they were able to help a cold, suffering dog.
When you order a free action pack below, you'll receive student-friendly leaflets and stickers to help spread the word, a poster to help you keep track of your fundraising goal, labels to put on donation jars around campus, and all the information that you need to start making change for chained dogs!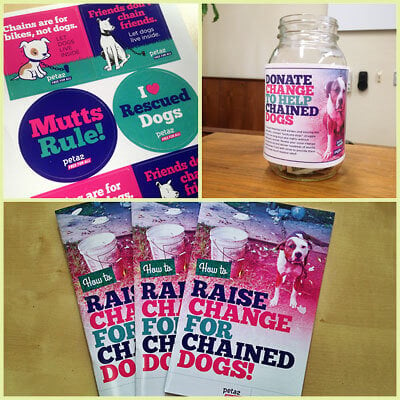 Get started now!
Are you ready to start a "Change for Chained Dogs" fundraiser at your school? Sign up below to receive a free action pack with everything you need to get started. If you have any questions about the program—now or as you go along—please contact us at Info@teachkind.org.
Remember: These packs are made specifically for teachers to use in a school setting. If you're a home-school teacher who wants to get involved, please e-mail us at Info@teachkind.org, instead of using this form, to let us know that you'd like to participate!
All fields in bold are mandatory.
By submitting this form, you are agreeing to our collection, storage, use, and disclosure of your personal info in accordance with our privacy policy as well as to receiving e-mails from us.
Related Posts