Posole (Vegetable Soup With Hominy)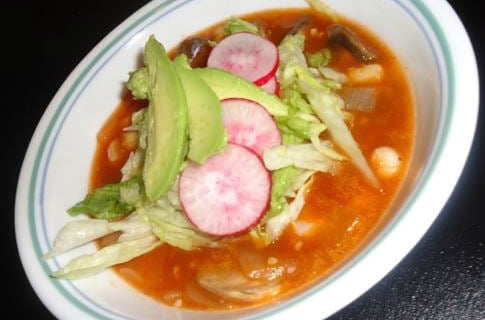 3 cloves garlic, minced
1 large onion, chopped
1/2 cup water
4 carrots, sliced
3 cups water or low-sodium vegetable stock
1 15-oz. can white hominy
1 15-oz. can stewed tomatoes with garlic, green pepper, and celery
1 red pepper, chopped
1 cup green beans, broken into bite-sized lengths
1/2 tsp. cumin
1/2 tsp. salt (optional)
1/4 tsp. pepper
3/4 tsp. chili powder
Salsa (optional)
Romaine, green, or iceberg lettuce, chopped (optional)
Baked tortilla chips (optional)
Fresh cilantro, chopped (optional)
• In a medium stockpot, braise the garlic and onion in the water until soft. Add the carrots and water or stock, and simmer for 5 to 10 minutes.
• Drain and rinse the hominy and add to the pot.
• Stir in the tomatoes, red pepper, green beans, and spices. Simmer for 15 minutes.
• Serve piping hot and top with salsa, lettuce, tortilla chips, and cilantro, if desired.
Makes 6 servings
Respond