How to Sponsor PETA PSAs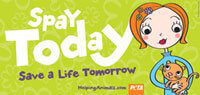 Turn on the television, flip through a magazine, or listen to your favorite radio station, and chances are you'll soon come across an advertisement promoting meat, household cleaners that have been tested on animals, fur or leather clothing, or an ad that simply doesn't portray animals respectfully.
In the face of the many anti-animal advertisements out there, it's up to kind people like you to ensure that animals' voices are heard and to spread the word about the issues that animals face.
PETA has everything you need to make that happen—and best of all, you don't need a lot of money to do it! While paid advertising is always a terrific way to get the animal rights message out there, most advertising agencies will run noncontroversial advertisements for free as public service announcements (PSAs). There are many options, including the following:
Whatever type of PSA you choose, you can feel great knowing that you will be reaching hundreds, thousands, or even millions of people with a message of compassion and respect for animals.
In This Section
View Our PSAs