PETA Volunteer Spotlight: Rachel Kay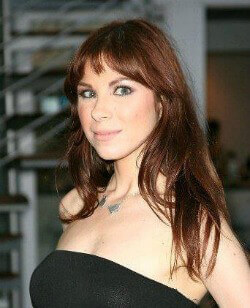 The following article was written by Michelle Carr, PETA's Action Team coordinator, who works with volunteers in Canada and the northeastern part of the United States.
Rachel Kay is a vegan from Brooklyn who began her volunteer and animal rescue efforts as a child. Now, she volunteers with many animal advocacy groups in the New York City area and has traveled the country raising awareness of the truth behind modern animal agriculture and the positive impact that choosing a plant-based diet has on human health, the Earth, and, of course, animals. She has been an activist since birth, traveling with her father to demos all over the country. She loves rock music, especially the Beatles, and believes everything that John Lennon had to say when he sang "Imagine." Check out our Q&A with Rachel:
How did you become involved with PETA?
Honestly, I first became involved with PETA as a child. I grew up as a Yippie activist's daughter in New York City (my father is known for throwing pies at politicians in the 60s, 70s, and 80s), and my father had brought me to my first anti-fur demo/vegetarian demo in Manhattan in front of a McDonald's. I remember getting excited and throwing on my faux fur white jacket only to find out the horrific truth to the fur industry at such a young age. Later on in my life, I started to devote my own time to reading PETA's website and then, in the last few years, to attending demos once again and increasingly becoming involved. Activism is my life, and PETA has been a very large part of it.
Are you vegetarian or vegan, and what made you decide to change?
I am a vegan; it's the choice I have made for the rest of my life, again a long time ago. I feel that I was lucky enough to have grown up in a liberal surrounding. I knew vegans, vegetarians, and people who knew the horrors of factory farming. First my father decided to go vegetarian himself, and I went with him in order to encourage his healthy lifestyle. Soon after, I was told at about age 10, when I first decided to stop eating meat, that McDonald's burgers contained worms. True or false, that had definitely inspired my journey into vegetarianism and finally into veganism. As years went on and more information leaked to the population, I became more passionate in my beliefs. I grew up rescuing animals and taking in as many of them as I could, even if my parents sometimes disagreed but would finally agree to let me take care of them. All my life, I was destined to be vegan.
Are your friends and family supportive of your lifestyle choice?
One of the best parts of being a part of my family is that yes, they are very supportive of my lifestyle choice. My mother reminds me that as a young girl, if they had tried to give me meat (young as in toddler), I would spit it out. About three years ago, my mother had made the decision to go vegetarian after I took her out to many of my favorite vegan restaurants in the city and would refuse to buy her anything that would contain dairy and/or meat. She went home to Wisconsin and called me up to announce that she would try to become vegetarian. As of right now, she has not looked back and is almost vegan and now has become involved in animal rights herself. My father is very supportive of my choices and has recently announced that he will try once again to be vegetarian! Both of my parents are overjoyed by my participation with PETA and activism and forward whatever demos I am involved with. My friends are very supportive as well, always asking questions, and if they ever need health advice, they contact me. They are inquisitive, and I will answer and/or educate them on the truths of where their food comes from. And honestly, now that veganism is becoming more popular across the world, I have met people that are vegan as well and share the same interests as I do. I know that these people, who share the same goals and lifestyle as I do, will be in my life forever.
You have been one of our iconic "Lettuce Ladies" to highlight the importance of veganism. How do you feel about doing those kinds of events, and what would you say to someone who might find them to be controversial?
I believe that to do these events, you have to have confidence within yourself and your activism; you have to KNOW what you are trying to say so that the majority of people and press do not just look at you as a symbol but as a living being who has something to say: and that is to be an advocate for animals. I enjoy doing these events, I DO have something to say, and sometimes doing something that the media might call outrageous creates attention so that when we need to speak up and get the truth out, we can. It takes a lighthearted and fun individual to be able to stand out in front of the capital in a lettuce bikini and hand out veggie hot dogs to Congress, and if anything, that will be one of my most fond memories of my life. These events are about vegan outreach, and that is what we are out there for.
I know you organize protests against Intermix in New York City urging the company to stop selling fur. What other volunteer projects are you involved with?
Yes, I am currently working on organizing protests against Intermix in a nationwide campaign where we hold several demos in different cities across the USA. I also volunteer at many other animal advocacies and not-for-profits in the Tri-State area. I volunteer frequently for Woodstock Farm Animal Sanctuary (woodstocksanctuary.org) and volunteer at almost any vegan event that comes up. I don't think a day goes by without me making sure that I haven't done some activism, and I never feel it is enough.
You are constantly volunteering at PETA events in New York City and have even traveled the U.S. with a PETA staffer, speaking up for animals in various cities. Do you have a favorite memory?
This is a hard question to answer! I have so many memories, so where shall I begin? I found that I loved every demo that I have ever been involved in, but definitely loved the Lettuce Ladies demo at Capitol Hill. We reached press, had hundreds of people lined up to eat veggie hot dogs, and at the same time, we were able to explain the reason why we were out there. But, even if I loved that memory, I have dozens of wonderful memories of traveling to various cities and doing demos. Each and every city was different, and the demos were invigorating, from showering on sidewalks to explain how many gallons of water we use for just ONE pound of meat. One of my favorites: doing the body parts demo in Savannah, Georgia, to show that we have the same body parts as the animals that the majority of the population does. We met amazing activists in every city that were there to support us and hand out fliers and even if they were very few, they were confident in themselves and their choice.
Do you have any advice for someone who wants to help animals but doesn't know where to start?
First of all, welcome to the truth! I would say to start at PETA's website and watch "Meat Your Meat," and go to GoVeg.com. Sign up for mailing lists that will let you know of upcoming demos in the area, and I have learned that Facebook is a very useful tool to look up other vegans in your area and events, just with their simple search engine. Check out vegan apps if you have an iPhone, or just look up vegan/vegetarian restaurants in the area and visit a sanctuary! (You'd be surprised at how many are out there that you can visit and support!). Watch Earthlings and/or Forks Over Knives, and then have your family and or friends watch them as well. (Always a great start to help animals!) Look up vegan fashion! (Vaute Couture is one of my favorites!) And stop buying animal products and slowly fill your closets with vegan items. Welcome to a life of living with and loving animals!
You live in a great city with so many vegan options! What are some of your favorite places to eat in New York City?
I really am quite happy that I am lucky enough to live in NYC, though I have found after traveling the country and to other countries during my life that I can find vegan options everywhere! But what are some of my favorites? Another hard question. I have to say some of my favorite places to eat here in NYC are: Sacred Chow because I am gluten free and they have SO many great options for me, Pure Food & Wine and or Organic Avenue because I actually pride myself on trying to eat as raw as I can, Blossom UWS and Peacefood Café for fine dining, Soy & Sake because I love their vegan sushi, and Foodswings in Williamsburg for when I crave fast food and a good time with close friends. But drum roll, please? I really do have a sweet tooth, and during the summer months I make excuses to run across town from wherever I am to go to Lula's Sweet Apothecary for a scoop of vegan ice cream and/or a sundae. For cakes? I am lucky enough to know both Verite Catering and Vegan Bun Buns, which are both magnificent at making my mouth water for their gluten free desserts and cupcakes. I told you all this was a hard question to answer!
Thank you for taking the time to chat! Is there anything else you'd like to add?
I would just like to add that I thank you so very much for asking me to do this interview. Like I stated, activism is a major part of my life. I wouldn't have met some of my best friends without being vegan and all of us loving animals as much as we do. I love my family and my friends for their support in my choice, and I love the animals I live with and my cat, Chloe, for her purrs and kisses. Thank you for the experiences that you have asked me to participate in to, yes, try to change the world. And always and forever, I will live by Ahimsa. XO!
Respond