Top 10 Vegan Wedding Ideas
The following article was written by Alexa Hanrahan.
Whether you want an intimate indie love fest or a royal-level extravaganza, diving in to wedding planning can seem a little taxing. Toss your desire to have a cruelty-free vegan wedding into the mix, and planning can seem borderline intimidating. But have no fear, compassionate brides-to-be—and grooms-to-be too!—we've got some fun and easy ways to "veganize" your nuptials. Get the jump on the 2012 wedding season with PETA's Top 10 Vegan Wedding Ideas: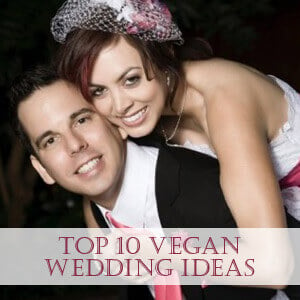 1. Trade a bachelor or bachelorette party for a day at a sanctuary or an animal shelter.
You can party down in the evening, but take a day (or three) with your besties and volunteer at an animal shelter or visit a sanctuary. It will be a great excuse to do something selfless in the middle of a very "me" time. Who knows—the visit may unearth compassion that your friends didn't realize they possessed. (Be sure to ask the sanctuary if you can bring a vegan picnic—or better yet, inquire about having your ceremony on the property!)
2. Look good.
If they haven't already, people will ask you what you're going to wear on the big day, and if you do it right, they'll want to know where it came from after you've rocked the aisle. Whether you're thinking about a gown, a three-piece suit, or something a little less traditional, there are cruelty-free options galore! Avoiding animal products (including silk and wool, among others) is easier than ever. There are some great alternatives to silk that you can wear without looking like you're going to prom in 1987. And brides: Using cruelty-free makeup and hair products can also be a conversation piece—when your cousin wants to know the secret behind your glow (other than a healthy vegan diet and, you know, being in love), you can bust out your line of eco-friendly, cruelty-free beauty supplies. Check out PETA's extensive list of cruelty-free companies and products to get started.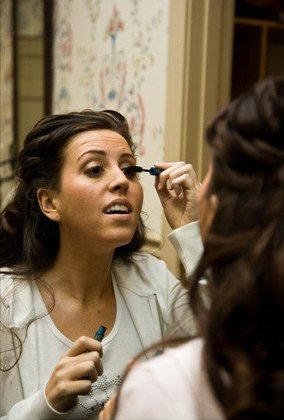 You can also adopt a "no fur, no skins" policy. Whether you're asking your bridesmaids and groomsmen to wear specific outfits or letting everyone express themselves freely, request that they leave the shoes, belts, and accessories with bits of animal skins at home. Offer a hand in finding alternatives for those buying or renting (vegan shopping spree, anyone?), and challenge your friends to find options in their own closets that are animal-free—they may be surprised!
3. Opt for vegan catering.
Vegan catering is a great way to spare animals and introduce your loved ones to food that can keep them healthier! If you're tying the knot in a major city, finding a practiced vegan catering company shouldn't be a problem. If you're in a smaller city or town, shop around for someone who feels right to you and your betrothed. Most caterers will be happy to … well … cater to your dietary choices. Just be upfront about what you want (and don't want) and get involved—offer to provide vegan recipes and make suggestions. This is a day to feast, so make sure that your caterer understands that vegan meals go above and beyond grilled, steamed, and puréed vegetables! Stress full, hearty dishes with your favorite veggies, grains, faux meats, and fixin's, and be sure to have them cook a sample meal for you beforehand so that you know it's what you had in mind.
Cruelty-free dessert is a vegan cakewalk. With so many delicious variations available, guests will be circling the dessert table for seconds … or thirds. Vegans are crafty and have great dairy- and egg-free versions of red velvet cake with buttercream frosting, cheesecake, lemon king cake, chocolate peanut butter cake … you name it. If you feel like your baker might be a little lost, try some recipes out at home and take them with you when you have your first appointment.
You can take food to a whole new level by printing out recipes or information about what you're serving and including it with place settings or favors—that way, people will know what they're eating and have a chance to learn about all the benefits of a vegan diet. Knowledge is power—especially for any relatives who may not understand your compassionate choices!
4. Have a "Be Kind" bar.
Take back the bar and test your tender's skill by renaming drinks! Quirky and thought-provoking titles will get people talking. Example: "Horseless Carriage Ride: Formerly the double Manhattan, this drink will inspire you to take New York's most famous cruelty-free method of transportation home—a cab!"
5. Give cruelty-free gifts to your wedding party and guests.
Donate on behalf of your guests: Spending a little money on your loved ones to thank them for sharing your special day with you is a sweet tradition. Instead of investing in a knickknack that will sit on the back of a shelf for decades, why not provide PETA's wedding favors of compassion—a beautiful addition to any table and easy to travel with, and best of all, your gift will help animals who need it!
Soy-based candles: Available everywhere from chain grocery stores to high-end boutiques, soy-based candles are affordable, sweet ways to say "Thank you." They come in all the sizes, scents, and colors that old-fashioned beeswax candles do. If you have a color theme for your celebration, candles can tie it all together.
Vegan recipe books: Include your ultimate drool-inducing recipes in a personalized, pocket-size booklet for guests to take home. It's more intimate than buying cookbooks for everyone and will give you an excuse to bond in the kitchen with your beau's family at holiday meals.
6. Plan meaningful speeches.
Talk to anyone who's planning to make a speech about including some details about your vegan lifestyle. Parents, siblings, and close friends probably have a pretty good idea about why you've made the choices you've made, but some distant relatives, work friends, etc., could probably use a little background. Your compassion for animals is another thread that ties you to your future spouse, and any quirky or heartwarming details about how that thread binds you two together will bring down the house.
7. Create a compassionate send-off.
Not thrilled by the prospect of being pelted with tiny projectiles or blown out of your veil by a well-meaning friend's fireworks? Supply your well-wishers with bubbles, dried lavender, or sparklers … just make sure that any onsite animal companions are safely inside.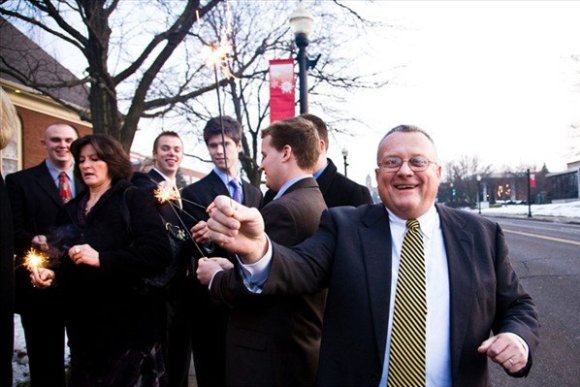 8. Create a "My Vegan Wedding" comment box.
Ask your guests to write down a few things before the end of the reception that were unexpected but thoroughly enjoyable. Did flesh-loving Uncle Ronnie think the black-bean sliders were out of this world? Was Grandmommy surprised that your gorgeous hair and makeup was the result of cruelty-free products? It's a great way to give folks a moment to reflect on not only the day itself but also the values that you and your boo share.
9. Request that wedding presents be given to animals.
You are starting a new life with the person you love, and what better way to celebrate than to help save lives with your gifts? Ask your loved ones to donate to an animal rights organization, an animal shelter, or a sanctuary in your names, and you'll not only feel good but also save paper by not requiring gift receipts! Keep in mind that money isn't the only item that these groups need. Encourage guests to look into volunteering, attending demonstrations and rallies, or donating blankets, toys, and food to rescues in need!
10.  Check out vegan-friendly honeymoon locations and travel resources.
Just outside Rochester and Buffalo, New York, Minty Wellness uses vegan, organic, and ethically sourced products and boasts an all-vegan restaurant. Known for its beautiful views and spa treatments, Minty Wellness offers a relaxing honeymoon environment.
In "America's Finest City," the Hilton San Diego Bayfront Hotel offers a vegan menu (available through room service as well, no less!) that would make omnivores drool. With great rooms that feature bath products by cruelty-free company Crabtree & Evelyn, you can kick back in luxury without compromise!
If you're looking for a Costa Rican adventure, a short walk from the center of Puerto Viejo lies the Cashew Hill Jungle Lodge. Made up of several cottages that include full kitchens and spectacular views, Cashew Hill is in close proximity to a number of wildlife refuges and national parks—and if you don't want to leave the oasis, gardens on the grounds have a number of resident sloths!
Venture to the Ginger Cat Bed & Breakfast, where you can snuggle up to one of the many kitties native to the Watkins Glen, New York, spot. With an all-vegan menu and a long list of vegan-friendly wineries nearby, what more could you ask for?
Viva Las Vegans! The Wynn and Encore Tower Suites have vegan menus, approved by Steve Wynn himself. With 18 restaurants on board, vegan honeymooners can have breakfast, lunch, and dinner in bed!
Plan your perfect newlywed getaway at Veg Voyages, Green Earth Travel, and Active Veggie Tours International.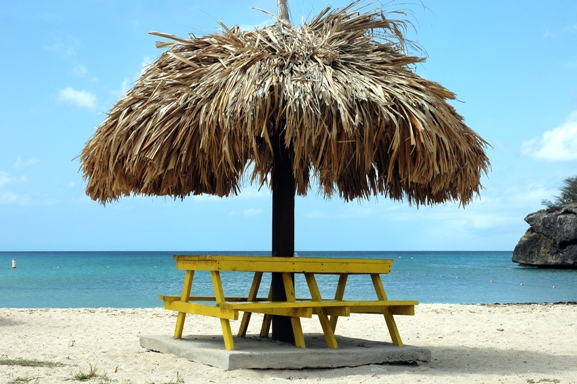 Are you a vegan groom- or bride-to-be? How has your lifestyle influenced your special day? Share your experience with us in the comments section below.
Respond