Stocking Stuffers for Everyone on Your Shopping List
The following article was written by Tracy Patton.
It's crunch time. A lot of us find ourselves scrambling to cross names off our holiday shopping list right about now. Fortunately for you, I have compiled some ideas for easy and compassionate stocking stuffers for everyone on your list!
Let's get started, shall we?
How cute is this?! For only $20, you can give your sister, gal pal, or girlfriend this adorable metallic-pink wallet. It's cruelty-free and will be a huge hit with any lady on your list. Other styles are available as well.
Nesting Doll Wallet, The Herbivore Clothing Company, $20
These faux-leather tags are the perfect way for guys or gals to dress up and keep track of their gear this season!
Luggage Tag, Alternative Outfitters, $14
No stocking is complete without candy! You can find these adorable vegan treats at NaturalCandyStore.com. Visit the website to discover all kinds of sugary goodness, all clearly marked with labels such as vegan, organic, made in the USA, gluten-free, etc.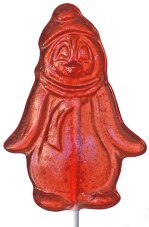 Strawberry Penguin Pop, NaturalCandyStore.com, $2.49
For the professional in your life, this beautiful, all-vegan, and true-to-the-season red tie will make any man's heart skip a beat. It's perfect for his holiday office party or a hot date with you!
Skinny Red Tie, Jaan J., $29.50
It's the season for dry skin, but with this luxurious vegan moisturizer, your friends and family will be comfortable and smooth! It's great for everyone on your list.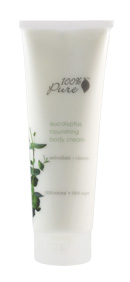 Eucalyptus Nourishing Body Cream, 100% Pure, $15
Have any wannabe chefs in your life who just can't get their recipes right? Then they need this book. And you'll get to reap the rewards!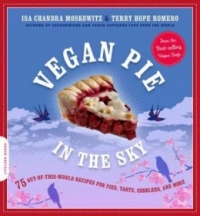 Vegan Pie in the Sky, PETACatalog.com, $17
We all know that Fido has a stocking hanging there, too, so celebrate your love for him with these tasty vegan treats! With six cookies to a box, his tail will be wagging throughout the season.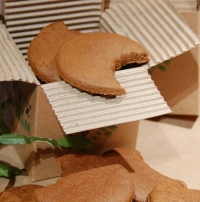 Gingerbread Snaps, Boston Baked Bonz, $7.95
Your kitty will break into feline holiday cheer with this organic catnip in a pretty little reusable tin.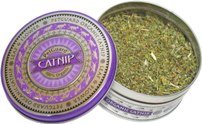 PetGuard Organic Catnip, $6.95
Still at a loss? This stocking stuffer is sure to spread more than holiday cheer. For anyone on your list, this tax-deductible gift includes the following:
A fancy-pants peta2 card showing Nugget with the message "A special gift in your honor has been given to peta2 to help stop cruelty to animals" and plenty of space for your personal message
A leaflet providing an overview of animal rights
A recent issue of PETA's upbeat and informative magazine Animal Times
A set of peta2 animal rights–themed stickers!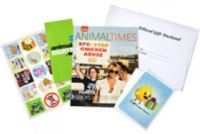 PETA's "Give a Gift" Pack, $15
What's on your cruelty-free shopping list this season? Spread the holiday cheer by sharing your top picks in the comments section below!
Respond