Q&A With a Vegan Fitness Star
Written by
September 23, 2011
|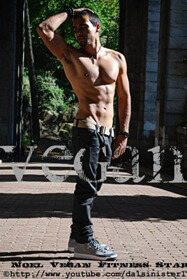 Ever think an active lifestyle that includes regular exercise and eating right can help make you an even better advocate for animals? That's been the case for Noel Polanco. He is living proof that vegans can be fit, healthy, and strong. After all, I bet no one ever badgers Noel about getting enough protein! Check out his exclusive Q&A to learn more:
When and why did you first decide to go vegan?
I was vegetarian mainly in the past years, but after seeing so many people overweight in NYC and in my family, I decided to go fully vegan. I said to myself, if I truly love animals, I shouldn't eat them, and I don't support the abuse and suffering animals go through just for the pleasure of humans. I also said to myself, if eating meat or following the standard American diet is healthy, why are so many of these people overweight or suffering with health problems. That right there answered my question that the standard American diet isn't healthy.
What was the biggest change that you experienced when you switched to a plant-based diet?
I became lean and strong by following a plant-based diet and exercising daily. I feel more happy and connected to the planet and animals knowing that I am not part of the cruelty that goes on. My energy increased, and my body cleaned out.
What is your favorite vegan meal?
My favorite vegan meal would be quinoa with mixed veggies and avocado. Favorite breakfast would be my banana peanut butter smoothie with almond milk.
How frequently do you work out, and what do these workouts usually entail?
I work out on a daily basis. I made exercising a daily routine of my life. Just how you eat, brush your teeth, and shower daily. I do the same with exercising as well. That way I am always consistent with my workout and don't get lazy …. My workouts are mainly bodyweight training and gymnastic training. I work out with gymnastic rings and now recently started using a weighted vest on some days to make the exercises more challenging. You can check out my workout videos here at my personal YouTube page.
What advice do you have for other people who want to lead an active and healthy lifestyle?
My advice … would be to start right now. … When you eat unhealthy, you only enjoy the food for a few minutes and then suffer for years in the future. That's why you should avoid food that harms your body …. You only have one body—might as well take care of it. Treat it right so it can treat you right. Exercise like your life depends on it. Don't worry about what other people do or how they look. Worry about yourself, making yourself a better, stronger, and healthier person. If you want to see a change, the change starts with you.
*****
For more about Noel, check out his blog or Facebook page.
Respond