Get Fit and Run With the PETA Pack!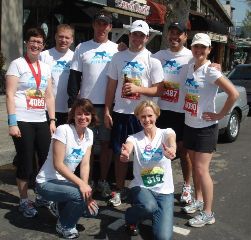 The following article was written by Michelle Taylor Cehn.
It's that time of year again—time for the PETA Pack team training! Registration is now open for the 2011 PETA Pack team, and joining is possibly the best way ever invented to get in shape and help animals at the same time.
The PETA Pack is a nationwide group of compassionate people who will be team-training to run a half-marathon (13.1 miles) or 5k (3.1 miles) race in October. Each participant will raise money to help PETA with its lifesaving work for animals. Last year, the team raised more than $50,000 for PETA's Investigations and Rescue Fund, and this year, we hope to raise even more!
The 2011 PETA Pack team is going to be bigger and better than ever before—and we want you to be a part of it! We've got a brand-new website, Facebook Page, and map of races as well as an inspiring spokesperson, Brendan Brazier. Brendan is a professional triathlete, author, and speaker, and he's signed on to advise, motivate, and inspire our fabulous PETA Pack team.
I know what you're thinking: "I'll never be able to run that far! The last time I ran was to catch a flight in Chicago O'Hare airport, and it wasn't pretty!" Well, let me tell you—I ran my first-ever half marathon with the PETA Pack last year, and it was an incredible experience. Before then, I had never run more than 2 miles at a time. But by the end, not only did I cross the finish line, I also felt better physically than I have in years! Lack of prior running experience is no problem for the PETA Pack—we have a great training program for beginners that can bring any couch potato across the finish line after the three months of team-training. And don't forget: You can walk part of the race—most people do!
If you've ever dreamed of participating in a race or simply doing something great for your health—now is your chance. Training begins on July 1, and it's a perfect way to take full advantage of the summer! Register now to be part of the PETA Pack team, meet great people, achieve new goals, get in shape, and help animals!
See you at the finish line!
Respond