Eight Things You Can Do Today to Help Animals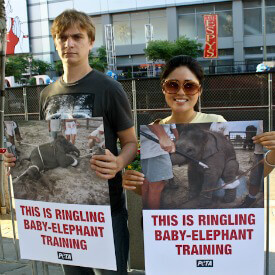 This article originally appeared on PETA Prime.
Has this ever happened to you? You read about some wonderfully heroic thing that someone "out there" does and you wonder why you aren't out there doing great things too? We read about how activists unveiled a flag on a national monument and we think, "Why can't I do something like that?" We watch Ingrid E. Newkirk's documentary I Am an Animal and we wonder, "What do I have to do to get someone to notice how much I love animals too?"
We want to help … we want to help in big, big ways but we don't know how and where to start. If you are not connected to a bigger group—if you're on your own and trying to make a difference—it's tough to stay motivated.
But leaders in the field will often be the first to counsel that it's not some big, grand scheme that effects change. It's little, bit-by-bit, grassroots movements. It's people like you and me, unknown and uncelebrated, who, time after time, bring about the societal change we all want to see. Did Rosa Parks think she would inspire an entire generation when she refused to give up her seat? Did Ingrid E. Newkirk think starting a club in her basement would spawn the largest animal rights organization in the world? Did Willy Wonka … well, you get the idea.
So here is a list of eight little things that you can do right here, right now, to help animals. Share this list with your family, your kids, your grandkids, and your Facebook friends and tweet it to all your followers, and you will find that the need to do good work is contagious.
Trade up! Go vegetarian! I know, I know—we here at PETA have been singing this same old tune for years. But here's a new idea: If you have given up "red meat," now's the time to give up all meat. And if you've given up eating mammals but are still eating poultry, become an "all the way" vegetarian (and that includes fish). If you're already vegetarian, go vegan. If you're already vegan but are still supporting corporate America, go local and organic! In other words, trade up! Take a look at what you're doing, and see what you can do better.
Leave a comment: Visit sites where animal stories are running and leave comments in support of animal rights. There are always stories about animals on the Internet and plenty of opportunities to educate other site visitors. Also, when you see animal stories in the newspaper, write a letter to the editor.
Adopt a classroom: Pick one teacher or one classroom (your child's or grandchild's, perhaps) and visit 

PETA's TeachKind program

 to send the teacher a free curriculum kit, along with free lesson plans, posters, stickers, videos, and other resources. For little or no money, you can spread the good news about animal rights.
Pull a switch: Does your favorite Chinese restaurant serve seitan or wheat gluten products? No? Why not ask them to? Lots of Chinese restaurants serve wonderful entrées such as crispy orange "beef" and teriyaki "beef" kabobs using faux meats that are available from many international food suppliers. Gather some recipes or menus and inspire a local chef. Then bring your vegetarian society over for a tasty treat.
And speaking of vegetarian societies: Do you belong to a local vegetarian club? If there isn't one in your area, why not start one? It could be as easy as visiting Meetup.com and signing up to be an organizer. You'll make a lot of new friends with the same interests, and your social life will get a boost too.
Care for a companion: Got a friend who is down and out? Offer to walk the dog, groom the cat, clean the birdcage or feed the fish. When I broke my arm, I found it difficult to walk my two big dogs. A helping hand would have been much appreciated!
Post a poster! Visit your favorite animal rights Web pages and order some posters about dogfighting, spaying and neutering, or banning the circus. Then gather a friend or two and drive around town putting them up on park benches, telephone poles, and fence posts. Billboards rent for $3,000 a month or more, but this advertising is free! Do the same with fliers.
Organize a protest: Gather a few friends together and get out there and leaflet! Protest Petland, KFC, or the local roadside zoo. For information on how to organize your own protest, visit PETA.org.
Got some ideas of your own? We'd love to hear from you, so leave a comment, and we'll share them with our readers!
Now get out there!
Respond