8 Gifts for Everyone on Your List
Finding the perfect gift for everyone on your list can seem difficult. This year, make it easy on yourself! Check out our list of gift ideas and find something to please every personality on your shopping list this holiday season.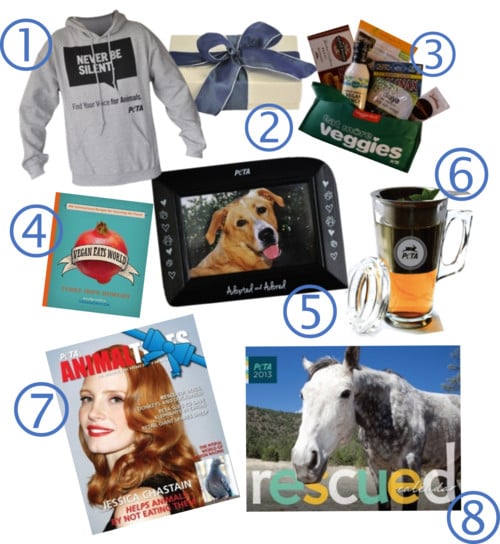 1. Activist: "Never Be Silent" Pullover Hoodie
2. Sweet Tooth: Vegan Holiday Chocolate Box
3. Foodie: "I Can't Believe It's Vegan" Gift Basket
4. World Traveler: Vegan Eats World
5. Animal Lover: "Adopted and Adored" Photo Frame
6. Tea Enthusiast: PETA Tea Mug Gift Set
7. Hard to Please: Yearly Membership to PETA image: PETA logo
8. Busy Bee: PETA "Rescued" Calendar
Like what you see? Subscribe to PETA's merch mobile list to be the first to know about new products, styles, and deals. Text STORE to 73822 (U.S.) or 99099 (Canada). Message and data rates may apply. See the full texting terms and conditions.
Respond