Featured Cruelty-Free Company: The Good Home Co.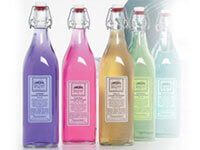 Whoever says you can't go home again hasn't had the pleasure of experiencing The Good Home Co.'s line of fragrant household products. Scents like Paris Rain, Beach Days, Pure Grass, Italian Citrus, and Lavender have a magical way of bringing back wonderful memories of your childhood home, while helping you keep your present home clean and smelling great.
In fact, it was the familiar, comforting smells of her grandparents' farmhouse that inspired the scents that owner Christine Dimmick created when she started making handcrafted products in her New York City kitchen in 1995. Since then, she's been designing products that help others turn their homes into a "personalized, relaxing sanctuary." Registered with PETA as a cruelty-free company, she uses vegetable-based, phosphate-free, biodegradable ingredients as much as possible and always tests her products on "good people, not good animals."
Her company has come a long way over the years, and today her unique line of home care and laundry products, which includes dish soap, surface cleaner, tile and tub cream cleanser, laundry detergent, dryer sheets and sachets, and hand lotion, has been featured in a variety of magazines, including, Style, Family Circle, Redbook, Southern Living, O (the Oprah magazine), Good Housekeeping, and Time. Today, Good Home Co. products can be purchased directly online or from one of many retail establishments across the country.
PETA salutes Christine Dimmick for creating animal-friendly household products that work so well and smell exceptionally good and recently presented her with a Trail-Blazer Award for following a "no animal testing" policy.
Read more about cosmetics testing on animals.
Search for more cruelty-free products.
Respond