Decorate Like an Animal!
The rationale behind taxidermy is perplexing—not to mention horrifying! If you love the beauty of animals, why would you want them to die for your decor? Thanks to a bunch of forward-thinking designers and crafters, there's no excuse to mount an animal head or lay down a bearskin rug.
Show your love for the animal kingdom by decorating like an animal, not with one! Here are some great options: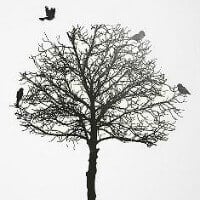 Bring the outdoors in with this intricate tree silhouette, complete with four nesting birds. Easy to put on and pull off, it's a safer bet than opting to paint a mural—and much cheaper!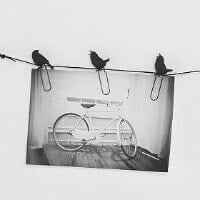 We can't all live a Cinderella existence, with birds to help dress the bed. But these little clips are nice substitutes for the fairytale life. Hang them on your wall for a photo display that'll look good well past midnight.
Octopus Ocean Pattern White Decorative Pillow Cover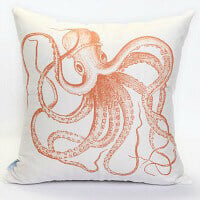 Ever wished you could be hugged by eight arms at once? Now you can. Drift off to sleep atop this cotton octopus pillow case. Simply designed yet intricately detailed, it's a nice touch with your bedroom decor.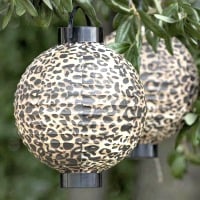 As you touch up your home, don't be afraid to go wild! String some lights to match your mood. These animal print patterns will up the ante on any living space, without harming a hair on an animal's back. String them together to create a safari look, or hang them in separate rooms to spread out the animal love.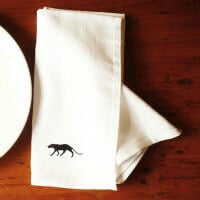 In the animal kingdom, panthers are synonymous with stealth. Sneak a little feline detail into your dining ware with a set of linen napkins with tiny silhouetted panthers. Short on dinner conversation? Discuss ways that you can help animals!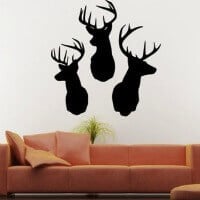 You don't have to don flannel and head to the woods just to catch sight of a deer silhouette. These deer designs will add a touch of the great outdoors to your living room, bedroom, or den. Available in 21 colors, they are ripe for mixing and matching. For kids, try a slightly sweet Bambi Wall Decal.
Turquoise Resin Moose Head—Moose Resin Turquoise Faux Taxidermy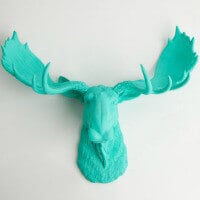 Taxidermy's barbaric. Enough said. Show off your smart brain by finding a mount made of resin, not sentient beings. This moose head comes in plenty of colors, making it an easy addition to any home.
For kids' rooms, try the Misfit Menagerie, a group of silly stuffed animals made into mounts.
Rainbow Color Leopard Comforter Set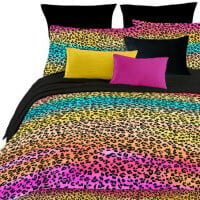 Feeling frisky? This rainbow leopard comforter set should suit you. With a blast of color and an oh-so-cool leopard pattern, it's nothing short of the cat's pajamas.
With so many animal-friendly items to choose from, there's just no reason to bring dead animals into your home. What ideas do you have to keep home-decor cruelty at bay? Share with me in the comments!
Respond