White-Wheat Artisan Bread
Looking for the perfect loaf of bread to round out your favorite meal? Look no further than these wholesome homemade loaves.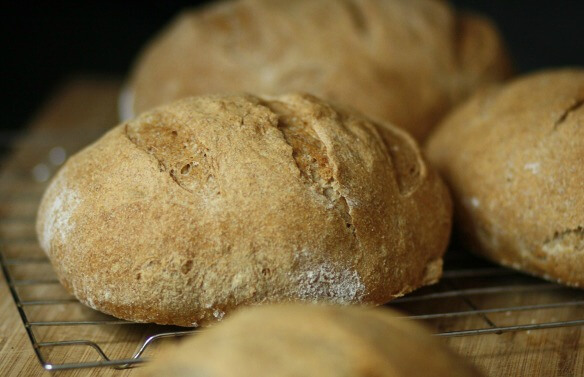 The following is adapted from The New York Times.
White-Wheat Artisan Bread
1 1/2 Tbsp. yeast
1 1/2 Tbsp. kosher salt
3 cups lukewarm water (about 100ºF)
3 1/2 cups unbleached, all-purpose flour, plus additional for dusting
3 cups whole wheat flour
2 Tbsp. cornmeal
In a large bowl, mix the yeast and salt into the water.
Stir in both the flours, mixing until there are no dry spots. Cover and let rise at room temperature for 2 to 5 hours. (Two hours issufficient, but the dough can safely sit for up to 5 hours.)
When ready to bake, sprinkle a little flour on the dough and cut off 4 grapefruit-size pieces with a serrated knife. Lightly stretch the surface of each to create a rounded top and a lumpy bottom. Put on a pizza peel or a large wooden cutting board sprinkled with cornmeal and let rest 40 minutes.
Place a broiler pan on the floor of the oven and place a baking stone on the middle rack. Preheat the oven to 450ºF and be sure to heat the stone for at least 20 minutes.
Dust the dough lightly with flour and slash the tops with a serrated or very sharp knife three times. Slide all the loaves onto the stone. Pour 1 cup of hot water into the broiler pan and shut the oven door quickly to trap the steam. Bake for 30 minutes and allow to cool completely before serving.
Makes 4 loaves
Related Posts
Respond
In This Section