Watermelon-Jalapeno Salad
Written by
August 1, 2007
|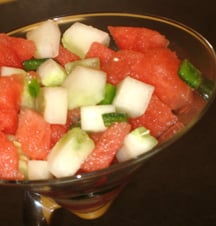 While eating at Five and Ten last year, a friend I was dining with ordered an interesting salad based on the combination of watermelon and jalapeños. The watermelon in the salad immediately brought me back to the age of 5. My family would travel to my great-grandmother's house in Alabama during the summer, where we always ended up devouring huge slices of bright pink watermelon from her garden. My little brother and I turned this otherwise peaceful activity into a game of war, and the watermelon seeds were our weapon of choice. The game would start innocently enough, seeing who could spit the tiny black seeds the farthest, but always ended in our spitting the seeds at each other. Of course, I always won—or at least that's how I like to remember it.
Using the Five and Ten recipe as inspiration, I decided to try a watermelon-jalapeño salad that downplays the sweetness of the watermelon, making it seem less dessert-like. The acidity of the lime juice and the vinegar helped with this, as did the salt, but of course the sweetness was still shining through. I was surprised to find that the sweet juiciness of the watermelon was actually complemented perfectly by the spiciness of the jalapeño—not in competition with it, as I always was with my little brother.
Watermelon-Jalapeño Salad
4 cups diced watermelon
1 large cucumber, peeled, seeded, and diced
1 jalapeño, seeded and minced
2 Tbsp. rice vinegar
2 Tbsp. lime juice
Salt, to taste
Toasted pine nuts for garnish (optional)
Combine all the ingredients in a large bowl. Gently toss to coat.
Refrigerate until very cold.
Garnish with the toasted pine nuts, if desired, and serve.
Makes 4 servings
Related Posts
Respond