Wasabi Pea-Encrusted Tofu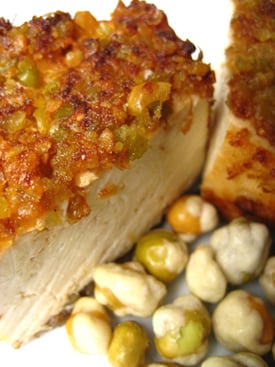 Adding a crust to a marinated piece of tofu is one of the easiest and fastest ways to take your meal from bland to grand. And it's not just because of the taste or presentation; the word "encrusted" alone can make a meal sound fancier.
Adding crust is good not just because of the "wow" factor; more importantly, it's great because it brings variety to a dish. A crust should, in theory, add a contrasting texture to that of the ingredient that lies inside, and it should provide a different flavor.
You can also use a variety of ingredients to actually create the crust, from nuts to grains to herbs and spices. One not-so-common ingredient is wasabi peas—the addictive sinus-clearing treats.
To create an Asian-inspired tofu dish, first marinate the tofu in a soy sauce blend, then coat with chopped wasabi peas and pan fry. This won't leave you with a perfect crust, like the kind that you would have on faux fried chicken or mock fish sticks—and yes, pieces might fall off, but that's OK with this dish. For a healthier version, you can also try sprinkling the chopped wasabi peas on top of the tofu then baking it in the oven for 20 to 30 minutes.
Any other recommendations for creating an interesting crust? Please share!
Wasabi Pea-Encrusted Tofu
1 16-oz. pkg. extra firm tofu, drained
1/2 cup soy sauce
1 Tbsp. brown rice vinegar
2 cloves garlic, minced
1 cup wasabi peas
2 Tbsp. vegetable oil
•Press the block of tofu with paper towels to remove excess water, then cut it into four equal pieces, each about the size of a deck of cards.
•In a medium bowl, combine the soy sauce, vinegar, and garlic, then stir. Add the tofu, being sure to cover it completely, and let marinate for 15 minutes. If the liquid is too shallow to cover the tofu, turn it often.
•In a blender or food processor, blend the wasabi peas until they reach the consistency of coarse salt, then pour onto a plate.
•Dip each piece of tofu into the wasabi peas, coating each side.
•Pour the oil into a skillet and bring the temperature to medium-high heat. Add the coated tofu and flip after the wasabi peas turn into a crunchy golden crust, about 3 to 4 minutes on each side.
Makes 2 to 4 servings
Related Posts
Respond