Super Bowl Party Picks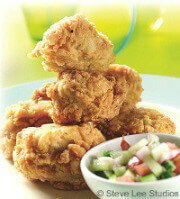 The countdown to the Super Bowl has officially kicked off, but if you're planning a party for game day, leave the greasy burgers and barbecued chicken on the sidelines. Instead, tempt your fellow football fans with the following meat-free favorites, or try easy crowd-pleasers like "beefy" Original Vegan Boca Burgers, Lightlife Smart Dogs, and MorningStar Farms Hickory BBQ Riblets with tangy barbecue sauce.
Kickoff 'Chick'n'
1/2 tsp. salt
1/2 tsp. onion powder
1 tsp. pepper
1 tsp. garlic powder
2 cups unbleached white flour
4 Tbsp. nutritional yeast flakes
4 Tbsp. mustard (yellow, Dijon, spicy brown, or your favorite)
1/2 cup water
2 pkgs. Gardein vegan Chick'n Strips
3 1/2 cups canola oil for frying
Mix together the salt, onion powder, pepper, garlic powder, flour, and nutritional yeast in a deep bowl. In a separate bowl, dilute the mustard with 1/2 cup water and stir until soupy. Add 1/3 cup of the flour mixture to the mustard mixture and stir until the batter thickens—it's OK if the batter is lumpy.
Dip large chunks of the Chick'n Strips into the mustard batter. Drop each chunk into the flour mixture and coat with the desired amount of "crust." Fry the chunks, turning as needed, in hot canola oil on medium to high heat in a large skillet until crispy and golden brown. Serve immediately. (Leftovers are great. Try them straight from the fridge!)
Makes 4 servings
7-Layer Mexican Dip
1 8-oz. pkg. Tofutti Better Than Cream Cheese
1 Tbsp. taco seasoning mix
1 cup guacamole
1 cup chunky salsa
1 cup shredded lettuce
1 cup shredded soy cheddar cheese (try Daiya)
1/2 cup green onions, chopped
2 Tbsp. sliced pitted ripe olives
Mix the "cream cheese" and taco seasoning. Spread onto the bottom of a 9-inch pie plate or other dish.
Layer the guacamole, salsa, lettuce, soy cheese, green onions, and olives over the "cream cheese" mixture. Cover and refrigerate for at least 1 hour.
Serve with tortilla chips.
Makes 6 to 8 servings
Hot Artichoke Dip
1 8-oz. pkg. Tofutti Better Than Cream Cheese
1 14-oz. can artichoke hearts, drained and chopped
1/2 cup vegan mayonnaise
1/2 cup vegan Parmesan cheese
1 garlic clove, minced
Mix all the ingredients with an electric mixer set on medium speed until well blended. Spread onto the bottom of a 9-inch pie plate or desired baking dish.
Bake in a preheated oven at 350°F for 20 to 25 minutes, or until very lightly browned.
Serve on crostini or bagel chips.
Makes 2 1/2 cups
Korean Barbecued Meatballs
12 oz. beef-flavored vegetarian sausage roll
1/3 cup green onions, minced
1/4 cup onion, chopped
3 Tbsp. tamari or soy sauce
2 Tbsp. sesame seeds, toasted
1 Tbsp. sugar
3 Tbsp. canola oil
Combine vegetarian sausage, onions, tamari or soy sauce, sesame seeds, sugar, and 1 tablespoonful of oil in a medium bowl and refrigerate for 20 minutes.
Heat the remaining oil in a skillet. Roll the sausage roll mixture into 1-inch balls and fry until browned and thoroughly cooked. Drain on paper towels.
Add the "meatballs" to the barbecue sauce (recipe below) and coat thoroughly. Simmer over low heat for 10 to 15 minutes.
Makes approximately 20 "meatballs"
Korean Barbecue Sauce
1 stick nondairy margarine
1/4 cup apple cider vinegar
1 cup tomato sauce
1/2 Tbsp. salt
1 Tbsp. hot mustard
2 tsp. lemon juice
1 tsp. hickory liquid smoke
3 Tbsp. sugar
Melt the margarine in a large saucepan.
Add the remaining ingredients. Stir until well blended.
Bring to a boil, lower heat and simmer 5 minutes.
Makes approximately 3/4 cup
'Ham' Roll-Ups
1 8-oz. pkg. Tofutti Better Than Cream Cheese
4 green onions, minced
Salt and pepper, to taste
1 pkg. veggie ham deli slices
Mix the "cream cheese," green onions, and salt and pepper together.
Spread the mixture on the deli slices and roll up. Use a toothpick to hold together.
Makes 8 to 10 servings
Coin-Toss 'Quesadillas'
(From Some Like It Hot by Robin Robertson)
1 cup soy cheddar cheese, shredded (try Daiya)
4 scallions, chopped
1 serrano or jalapeño chili, halved and seeded
1/2 cup soy sour cream (try Tofutti)
1 Tbsp. red wine vinegar
1/2 tsp. salt
Freshly ground pepper, to taste
4 8-in. flour tortillas
1 green bell pepper, cored, seeded, and cut into thin strips
2 cups shredded romaine lettuce
1 avocado, peeled, pitted, and sliced
1/2 cup salsa
Combine the soy cheese, scallions, chili, 1/4 cup of the soy sour cream, vinegar, salt, and pepper in a food processor and process until well combined.
Preheat the broiler with an oven rack positioned 6 inches from the heat. Arrange the tortillas on a baking sheet. Cover each tortilla with the soy cheese mixture, spreading it to the edges. Place the bell pepper strips on the tortillas. Broil until puffed and lightly browned, about 3 minutes. Top each "quesadilla" with lettuce, avocado, salsa, and the remaining soy sour cream.
Makes 4  servings
MVP 'Meatballs'
1 pkg. beef-flavored Gimme Lean (or your favorite ground-beef substitute)
1/2 green pepper, finely chopped
1 small onion, finely chopped
1-2 cloves garlic, crushed
2 slices white bread
Egg replacer equivalent to 2 eggs (try Ener-G brand)
Dash each salt and pepper
Oil, for frying
6 oz. chili sauce
5 oz. red currant jelly
Combine all the ingredients except the oil, chili sauce, and jelly in a bowl and stir until well mixed. Heat the oil in a skillet, using enough to coat the bottom of the pan. Roll the mixture into 1-inch balls and fry them in the oil until browned and thoroughly cooked.
Meanwhile, place the chili sauce and jelly in a saucepan. Heat and stir until smooth. When the mock meatballs are finished cooking, add them to the sauce and stir to coat. Simmer over low heat for 10 to 15 minutes.
Makes approximately 20 1-inch "meatballs"
Half-Time Hero Sandwich
1 submarine roll or mini baguette
Vegan mayonnaise, to taste
6 veggie deli slices (faux turkey, ham, salami, bologna, or your favorite flavor)
2 soy cheese slices
1/4 red onion, thinly sliced
3 tomato slices
Red and green pepper slices, to taste
¼ cup black or stuffed green olives, sliced
1 cup romaine lettuce, shredded
Olive oil, to taste
Salt and pepper, to taste
Slice the roll or baguette in half and spread on the vegan mayonnaise. Place the deli slices, soy cheese, onion, tomato, peppers, olives, and romaine lettuce on the bread. Drizzle with olive oil and season with salt and pepper.
Makes 1 serving
Related Posts
Respond
In This Section