Vegetarian Soul Food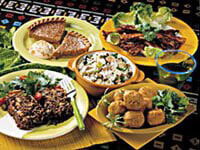 As more and more African-Americans embrace vegetarianism, soul food favorites such as "Hoppin' John" and "Po' Boys" are getting healthy new makeovers—minus the meat—and for years, Soul Vegetarian has been leading the way. This all-vegan eatery with restaurants in Washington, Chicago, Atlanta, and other cities has won over longtime vegetarians and meat-eaters alike with its fresh fare, which includes barbecue twists—fabulous fib "ribs" dripping with homemade sauce—pepper "steak," Southern-style collard greens and candied yams, sweet sticky buns, and more.
    
For more soulful recipes, check out Imar Hutchins and Dawn Marie Daniels' The Vegetarian Soul Food Cookbook. And be sure to try PETA's favorite Southern-inspired eats in your own "soul kitchen" tonight!
Morgan's Baby-Get-Back 'Ribs'
2 8-oz. packages bean curd stick (available at most Asian markets—ask for bean curd stick, not bean curd sheets)
2 Tbsp. warm melted margarine
1/4 cup peanut butter (or more, to taste)
2 Tbsp. miso
1/4 cup nutritional yeast
2 tsp. paprika
2 cups barbecue sauce
Soak the bean curd in warm water for 4 to 6 hours. When the bean curd is soft, drain it, squeezing out the excess water, and cut into 4- to 6-inch lengths.
In a large bowl, mix together the margarine, peanut butter, miso, nutritional yeast, and paprika to form a rich paste. If the mixture is too thick, add a teaspoon of water at a time until the desired consistency is reached. 
Preheat the oven to 370°F. 
Add the bean curd "ribs" to the paste and mix, coating the "ribs" thoroughly. Place side by side on a large baking sheet and bake, turning so that they bake evenly, for 25 minutes, or until the bottoms are crisp and brown. 
Remove from the oven and use a barbecue brush to apply the barbecue sauce. Return the "ribs" to the oven and bake for 10 to 15 minutes more.
Makes 4 servings
Mama's Mock Meatloaf
For the Loaf:
1 medium onion, diced
1/2 green pepper, diced (optional)
3 Tbsp. vegetable oil
2 packages Gimme Lean faux ground "beef" (or your favorite brand)
1/4 cup oatmeal
2 slices white bread, torn into crumbs
3 Tbsp. ketchup
2 tsp. garlic salt
1 tsp. pepper
For the Coating:
1/4 cup ketchup
1/4 cup brown sugar
1/2 tsp. dry mustard
1/2 tsp. nutmeg
Preheat the oven to 375°F.
Sauté the onion and green pepper in the oil over medium heat until soft. Combine in a bowl with the Gimme Lean, oatmeal, bread crumbs, ketchup, garlic salt, and pepper. Mix thoroughly. 
Press the mixture into an oiled loaf pan. Cover with foil and bake at 375°F for 30 minutes. 
Meanwhile, mix together the ingredients for the coating and set aside. 
Remove the loaf from the oven and turn it out onto a baking sheet. Spread the coating over the entire loaf. Bake, uncovered, for another 15 minutes.
Makes 6 servings
Fried Green Tomato Po' Boys
(From Vegan Planet by Robin Robertson)
3 small green tomatoes, halved lengthwise and cut into 1/2-inch-thick slices
Salt and freshly ground pepper, to taste
3/4 cup dry bread crumbs
1/2 tsp. Old Bay seasoning
3 Tbsp. olive oil
4 strips Lightlife Smart Bacon (or your favorite brand of faux bacon)
2 6-inch sub rolls
2 Tbsp. egg-free mayonnaise (try Nayonaise brand)
2 romaine lettuce leaves
Tabasco sauce, to taste
Season the tomatoes with the salt and pepper. Combine the bread crumbs and Old Bay seasoning in a shallow bowl. Add the tomato slices and toss gently to coat evenly. Set aside.
Heat 1 Tbsp. of the olive oil in a large skillet over medium heat. Add the "bacon" and cook on both sides until heated through. Transfer to paper towels to drain. 
Add the remaining 2 Tbsp. of olive oil to the skillet and increase the heat to medium-high. Cook the tomato slices until golden brown on both sides—about 5 to 6 minutes. Remove from the heat and transfer to paper towels to drain. 
Cut the rolls horizontally and spread the cut sides with the egg-free mayonnaise. Line the bottom half of each roll with a lettuce leaf. Top each with 2 strips of "bacon." Arrange the tomatoes on top, sprinkle with Tabasco, and replace the top half of the roll. Serve with the bottle of Tabasco on the table. 
Note: Po' boys are traditionally made with shrimp. Faux shrimp can easily be added to this recipe in place of or in addition to bacon. To order some scrumptious faux shrimp, visit MayWah.
Makes 2 servings
Hip Hoppin' John
(Recipe by Robin Robertson)
1 Tbsp. olive oil
1 medium onion, chopped
2 16-oz. cans black-eyed peas, rinsed and drained
3 cups cooked long-grain white rice
1 1/2 cups cooked collard greens, chopped
1/2 tsp. sea salt
1/8 tsp. pepper
Heat the oil in a large skillet over medium-high heat. Add the onion and sauté for 5 minutes or until the onion begins to soften.
Add the black-eyed peas, rice, and collard greens. Cook for 5 minutes or until heated through. Season with salt and pepper.
Makes 4 to 6 servings
Sweetie's Sweet Potato Pie
(Adapted from 366 Simply Delicious Dairy-Free Recipes by Robin Robertson)
1 cup cooked mashed sweet potatoes
1 Tbsp. margarine, softened to room temperature
1/2 cup soft silken tofu, drained
1 cup vanilla soy milk
1 1/4 cup firmly packed light brown sugar
1 tsp. vanilla extract
1 tsp. cinnamon
1/2 tsp. salt
1/4 tsp. ground ginger
1/4 tsp. ground nutmeg
1 unbaked 9-inch pie crust
Sweet Cream Topping, for garnish (recipe follows)
Preheat the oven to 350°F.
In a large mixing bowl, combine the sweet potatoes and margarine with an electric mixer. Blend in the tofu. Add the soy milk, sugar, vanilla, cinnamon, salt, ginger, and nutmeg, mixing until well blended. 
Pour the filling into the crust and bake for 45 to 50 minutes, or until firm. Serve with Sweet Cream Topping (recipe follows).
Makes 8 servings
Sweet Cream Topping
1/2 lb. firm tofu
1/4 cup oil
1/4 cup confectioner's sugar
1 tsp. vanilla or coconut extract
1/2 tsp. lemon juice
1/8 tsp. salt
Combine all the ingredients in a blender and blend until smooth and creamy. Chill before serving.
Makes 1 1/2 cups
Search for more vegetarian recipes.
Respond