Vegan Cookbooks: Find the Best Recipe Cookbook
Whether you like to cook ethnic cuisine from around the world or traditional American recipes, there is a vegan cookbook out there just for you! Here are some of our favorites, and we encourage you to browse the plethora of vegan cookbooks out there and find one that speaks to you.
by Annie and Dan Shannon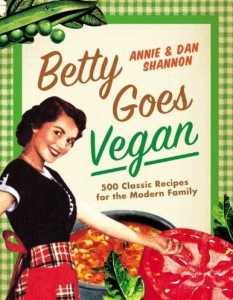 Whether you're a new vegan convert or a seasoned compassionate chef, Betty Goes Vegan is a must-have book for all. Authors Dan and Annie Shannon are an adorable duo of longtime animal advocates who have taken a fresh approach to traditional American recipes, proving that any recipe can be made vegan. This comprehensive tome isn't just a cookbook—it's an adventure. With 500 delicious recipes, it's a one-stop shop for breakfast, lunch, dinner, dessert, and special occasions! (480 pages, hardcover)
Flying Apron's Gluten-Free & Vegan Baking Book
by Jennifer Katzinger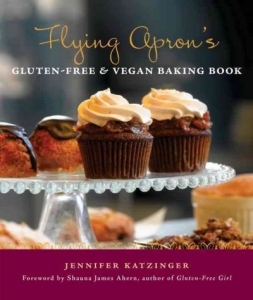 Over the last decade, a vegan diet has become a more mainstream choice, food allergies have been increasing at alarming rates, and celiac disease is on everyone's radar. When owner Jennifer Katzinger opened the Flying Apron bakery in 2002, she wanted to accommodate more people as well as use healthier ingredients so she eliminated gluten, dairy, egg, soy, and wheat. The mouthwatering result? Cakes and muffins with a tender crumb, cookies with a chewy bite, frosting that's light yet satisfyingly sweet, and pastry that flakes at the touch of a fork. In Flying Apron's Gluten-Free and Vegan Baking Book, Katzinger shares the delicious secrets of her sweet and savory recipes. Bake yummy pastries like Blueberry Cinnamon Scones and Lemon Poppy Seed muffins, or whip up a batch of Chocolate Chip Cookies or Cardamom Spice Cupcakes. In more than 80 recipes, Katzinger offers satisfying treats, whether you're transitioning to a vegan or gluten-free diet or you simply want to indulge a sweet tooth using healthier ingredients. (192 pages, paperback)
Vegan Fire & Spice: 200 Sultry and Savory Global Recipes
by Robin Robertson
Vegan Fire & Spice: 200 Sultry and Savory Global Recipes is full of recipes for boldly seasoned Indian and Thai curries, African stews, Middle Eastern kebabs and pilafs, and much more! A culinary passport to the spicy cuisines of the world, Vegan Fire & Spice contains international recipes—such as Red-Hot White Bean Chili, Vindaloo Vegetables, Thai Coconut Soup, and Penne Arrabbiata—that range from mildly spicy to nearly incendiary! Robertson shows beginners how to discover and even raise their own heat threshold and at the same time helps chili-heads create heatwaves in the kitchen. (268 pages, paperback)
Venturesome Vegetarian Cooking: Bold Flavors for Meat- and Dairy-Free Meals
by J.M. Hirsch and Michelle Hirsch (forward by John Mackey)
If you're tired of trying to make tofu taste like tenderloin, then this cookbook is for you—it combines simplicity with flavor in 150 easy-to-make recipes that just happen to be vegan. Whether you like ethnic cuisine or comfort foods like mom used to make, these recipes are perfect for everyday meals yet adventurous enough for dinner parties. Learn how to turn ordinary tomato soup into something extraordinary. Give hummus a hot pepper makeover. This book makes cooking an adventure that'll make your taste buds sing for joy. (210 pages, paperback)
The Candle Cafe Cookbook: More Than 150 Enlightened Recipes from New York's Renowned Vegan Restaurant
by Joy Pierson and Bart Potenza with Barbara Scott-Goodman (Contributor)
Rich and varied, casual and creative—the recipes in this book, from one of New York's most popular restaurants, will leave you utterly satisfied. Recipes include Tempeh-Portobello Burgers, Stuffed Red Peppers with Roasted Potatoes, Chocolate Praline Pie, and more. From aromatic Asian to spicy Mexican to subtle French, wow friends and family (and yourself) with your newfound culinary mastery. (240 pages, paperback)
The Native Foods Restaurant Cookbook
by Tanya Petrovna, cofounder of Native Foods restaurants
The subtitle, Fresh, Fun, and Delicious Vegan Recipes That Will Entice and Satisfy Vegetarians and Nonvegetarians Alike, says it all. This cookbook makes a great addition to any cook's collection, but if you're already vegan, it's icing on the cake (vegan icing on the vegan cake, of course!). Petrovna's upbeat writing style will really add to your enjoyment of her recipes. She says that she is not a "strict vegetarian" but a "fun vegetarian." With recipes like Kissed French Toast and Totally Stacked Enchiladas, we all can be, too! (328 pages, paperback)
How It All Vegan!: Irresistible Recipes for an Animal-Free Diet
by Tanya Barnard and Sarah Kramer
A fun book that delightfully demonstrates how vegan food can be fabulous, flavorful, and nutritious. Yummy and innovative recipes include blue banana muffins, tofu jerky, mushroom barley stew, and chocolate "cheese" cake. But more than just a cookbook, this is a guide to living without using animals or animal byproducts. (230 pages, paperback)
by Allison Rivers Samson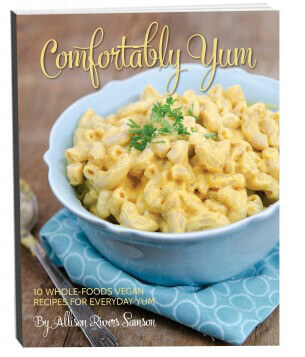 Allison has been wowing us with delicious treats from her online vegan bakery, Allison's Gourmet, for more than 17 years. Now, she has sent us her first-ever e-cookbook, Comfortably Yum, which features 10 hand-selected recipes that are sure to please any crowd.
For more cookbooks and vegan literature, check out PETACatalog.com!
Respond