Vegetarian Ceviche?
Written by
Amy Snyder
|
July 26, 2007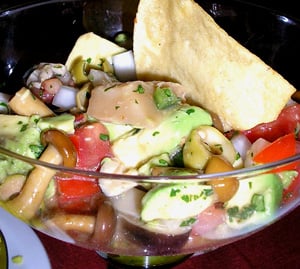 By definition, ceviche is a citrus-marinated seafood salad. It is commonly served throughout Central and South America, and every country is known for slightly different methods of preparation, whether it's the addition of orange juice vs. sugar or lemon vs. lime, garnishing with cilantro vs. parsley, or serving with corn tortilla chips vs. crackers—or even popcorn. The varieties are endless.
I decided to create a vegetarian version based on Rick Bayless' "Classic Ceviche" recipe in Mexico—One Plate at a Time. The major difference was that, you guessed it, I omitted the seafood and used a combination of mushrooms instead. I love, love, love oyster and shiitake mushrooms because of both their texture and taste, so they became the stars of the dish.
After all the ingredients were combined, I found that I desired more of a sauce to pull the dish together. I remembered seeing the cooks at a Mexican restaurant where I once worked add ketchup and hot sauce to their ceviche, so I decided to try that. I added just a little ketchup at a time, probably a total of 1 or 2 tablespoons, and a touch of hot sauce. It was just enough to coat all the ingredients without overpowering their flavor. Perfect.
I couldn't resist sticking to a theme, so I served my "ceviche" in margarita glasses topped with freshly baked corn tortilla chips—along with a shot of tequila on the side. Corny, yet perfect.
b>Mushroom "Ceviche"
1 lb. fresh mushrooms (combination of oyster mushrooms, shiitakes, and portobellos), cut into 1/2-inch dice
1 1/2 cups fresh lime juice (or enough to cover the mushrooms and allow them to float freely
1 medium white onion, chopped into 1/2-inch pieces
2 medium-to-large tomatoes, chopped into 1/2-inch pieces
Fresh hot green chilies (2 to 3 serranos or 1 to 2 jalapeños), stemmed, seeded, and finely chopped
1/3 cup chopped cilantro, plus a few leaves for garnish
1/3 cup chopped pitted green olives (try Manzanilla olives for a typical Mexican flavor)
Ketchup (optional)
Hot sauce (optional)
Salt, to taste
3 Tbsp. fresh orange juice or 1/2 tsp. sugar
1 large ripe avocado, peeled, pitted, and diced
Tortilla chips or saltine crackers, for serving
In a large bowl, combine the mushrooms, lime juice, and onion. Refrigerate, covered, for about 4 hours, or until the mushrooms are tender and juicy form absorbing the lime juice. Drain in a colander.
In another large bowl, mix together the tomatoes, green chilies, chopped cilantro, and olives. Add the ketchup and hot sauce, if using. Stir in the mushroom-and-onion mixture and season with the salt. Add the orange juice or sugar. Cover and refrigerate if not serving immediately.
Just before serving, gently stir in the avocado. Garnish with the cilantro leaves and serve with the chips or saltine crackers.
Makes 8 servings
Respond