Veganized: Sandwich Cookie-Stuffed Chocolate-Chip Cookies
Love chocolate chip cookies? Love sandwich cookies? Then let's do the impossible and combine them into one vegan super-cookie! Trust me: If you love chocolate sweets, then this is the cookie for you!
I've been on a "veganizing challenge" kick lately, and my most recent conquest was the Oreo-Stuffed Chocolate-Chip Cookie.
I whipped together this chocolate-chip cookie recipe and grabbed a box of sandwich cookies (yes, they're vegan!) to create this beauty: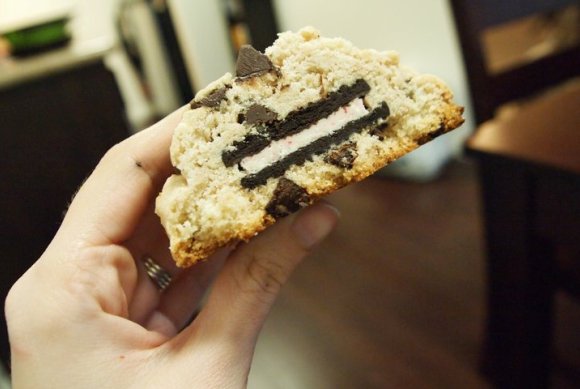 Love like this is a beautiful thing, isn't it?
Sandwich Creme Cookie-Stuffed Chocolate-Chip Cookies
2 cups unbleached flour
2 tsp. baking powder
1/2 tsp. salt
Cinnamon, to taste (optional)
Handful vegan chocolate or carob chips
1 cup raw sugar
1/2 cup canola or vegetable oil
1 tsp. vanilla
1/4 cup water 
10 vegan sandwich cookies
In a large bowl, mix together the flour, baking powder, salt, and cinnamon. Stir in the chips. Make a well in the center and set aside.
In a medium-size bowl, add the sugar and the oil. Mix well. Add the vanilla and then the water. Mix well.
Pour the wet ingredients into the well in the dry ingredients. Mix well, but be careful not to overdo it. Add more chips if necessary.
Preheat the oven to 350°F.
Form balls with the dough.*
Place one ball on top of a sandwich cookie and another ball on the bottom. Seal the edges together by pressing and cupping in your hands until the sandwich cookie is fully enclosed within the dough.
Bake the cookies for approximately 15 minutes or until golden brown.
Makes 10 stuffed cookies
Respond