Vegan Thanksgiving Cheat Sheet!
Written by
November 22, 2010
|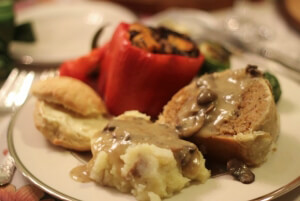 Thanksgiving is almost here, which means that it's the perfect time to indulge in fantastic food! Making vegan versions of your favorite holiday meals can seem intimidating at first, but finding the right ingredients to use is the perfect way to make this tasty transition.
Check out these product recommendations for an easy way to turn your traditional feast into a truly compassionate meal:
And in case you were wondering what I'll be chowing down on this Thursday (which I'm sure you were, right?), here is the complete vegan Palmer menu:
Biscuits
Cranberry Sauce
Green-Bean Casserole
Maple-Glazed Sweet Potatoes
Tofurky Roast*
Pumpkin Cheesecake
Vegan recipes leave your tummy happy and leave animals at peace. Now that's something that everyone can be thankful for.
*Click here for complete list of faux-turkey products and recipes.
Related Posts
Respond
In This Section