Vegan Pralines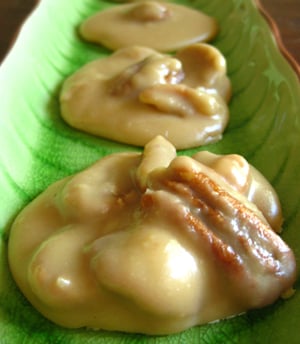 Growing up in Louisiana and Georgia makes it nearly impossible to avoid a love for pralines. The sugary pecan candies are practically a staple dessert in New Orleans, right along with beignets and king cake. I remember always being allowed to indulge in the extremely sweet treats during family trips to the French Quarter, where the candies always seemed to taste a little bit better.
Making a vegan version of pralines at home is quite easy and takes little time, but there are a couple of key points you have to make sure you don't overlook. One is cooking the sugar and soy milk until it reaches the soft ball stage, and the other is making sure that your mixture is not too thin. If you try to spoon out watery pralines onto your waxed paper, they might not ever set. Trust me, I know—it happened to me. They're supposed to be solid yet light, and if you bite into one, it should break easily and almost melt in your mouth. They definitely should not be chewy or soft.
And for all of you who are curious about the pronunciation, here's FrenchQuarter.com's excellent explanation that sets the record straight:
"For the record, the local and proper pronunciation is 'prah-lean,' while the nut most commonly used in it is pronounced 'peck-on.' Just remember that, in New Orleans, a word pronounced 'pray-lean' means nothing except, perhaps, a posture the supplicant faithful assume while petitioning God."
Enjoy! 
Pralines
Veganized from Southern.About.com
1 cup granulated sugar
1 cup light brown sugar, packed
1/2 cup soy milk or soy creamer
2 Tbsp. soy margarine
1 tsp. vanilla
1 cup pecans
•Put the sugars and soy milk in a saucepan and cook over low heat, stirring constantly, until the sugar is dissolved. Raise the heat to medium and continue to cook, stirring constantly, until boiling. Reduce the heat and continue cooking to soft ball stage*, about 234°F on a candy thermometer. Remove from the heat.
•Add the margarine and vanilla, but do not stir. Let cool for 5 minutes and then stir in the nuts. Beat with a wooden spoon until thickened and no longer glossy, about 2 to 3 minutes.
•Quickly spoon onto greased baking sheets or waxed paper. If the mixture becomes too thick to drop from a spoon, add a little hot water, no more than half a teaspoon at a time.
Makes about 36 pralines
*Note: To test for the soft ball stage, drop a small amount of syrup into chilled water. It should form a ball that flattens when picked up with your fingers (234°F to 240°F).
Related Posts
Respond