Vegan Milano Cookies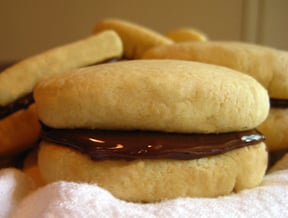 I will admit that I've never tried a Milano cookie. I am definitely more of a homemade-cookie kind of girl, but when my friend Mylie sent me this recipe for a vegan version of the Milano, I realized I could have the best of both worlds. A homemade vegan version of Pepperidge Farms' number one selling cookie could be mine.
The Milano recipe Mylie sent to me is from the creators of Vegan Cupcakes Take Over the World and is featured on their blog by the same name. I would say that just about every recipe they create is amazing, and this was no exception. Sure, I have no clue what real Milanos taste like, but these were definitely a hit with my Sunday afternoon, basketball-watching visitors. I did make one slight adjustment to the recipe by reducing my cooking time to 10 to 12 minutes, not the 12 to 14 they suggest. I tried the longer time with my first batch of cookies, but after cooling for only 20 minutes, they were already rock solid.
Let me know if these Milanos taste like the original or if you have veganized any other classic cookies. Enjoy!
Milano Cookies
From the Vegan Cupcakes Take Over the World blog
1/3 cup soy milk
3/4 cup sugar
1/2 cup canola oil
2 tsp. pure vanilla extract
1 tsp. finely grated orange zest
2 cups flour
2 Tbsp. cornstarch
1 tsp. baking powder
1/4 tsp. salt
6 oz. bittersweet or semisweet chocolate
•Preheat the oven to 350°F. Grease 2 large cookie sheets.
•In a large mixing bowl, mix together the soy milk, sugar, oil, vanilla, and zest.
•Add half of the flour, along with the cornstarch, baking powder, and salt; mix well. Add the remaining flour and mix until you have a soft, pliable dough.
•Dust your dry, clean hands with flour. Roll 1 tablespoon's worth of dough into a ball, and then roll into a log that's about 1 1/2 inches long. Flatten with the palms of your hand to create an oval that is 2 inches long and 1 inch across, then straighten the edges out with your fingers.
•Continue with the rest of the dough, flouring your hands before you form each cookie, until you have 16 cookies placed about 1 inch apart.
•Bake for 10 to 12 minutes, or until the tops are firm and the edges are ever so slightly browned. Remove from the oven and let rest for 2 minutes. Use a thin, flexible spatula to transfer to a cooling rack. Meanwhile, bake your next batch and melt your chocolate.
•Once the cookies are cool enough to handle, or after about 10 minutes, take one and dip the bottom into the chocolate. Then take another cookie and also dip the bottom in chocolate. Place the dipped sides together to form a sandwich, being careful not to press them too hard.
•After sandwiching all of the cookies, place them in the refrigerator for at least 1 hour. Bring them back to room temperature before serving.
Makes 16 cookies
Respond