Vegan Horchata Cupcakes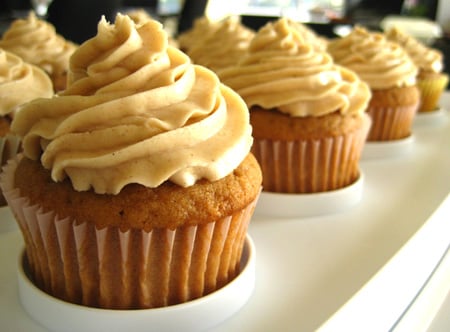 At a recent PETA potluck, the spread served up by my coworkers was impressive. I made mashed potatoes, Christine made Creamy "Chicken" Casserole, Emily and Patricia cheated by ordering Chinese take-out, and few people brought fruit platters and chips and dip, but the recipes that really outshined all the others were the desserts.
The problem, however, with attending a potluck is that when you ask your coworkers, "Can you give me the recipe?" the answer is often, "It's on page 180 of this book" or "I sort of combined this recipe I read about with another one my grandmother taught me when I was 10″ or "Recipe? Ha!"
Getting a recipe out of people can be like pulling teeth, but through a bit of back and forth, I was finally able to compile a recipe for the delicious Horchata Cupcakes that Shawna made for the potluck and that are currently making mouths water on PETA's Facebook page. It's a combination of the vanilla cupcakes from Vegan Cupcakes Take Over the World and the nonvegan horchata cupcakes from Cupcake Bakeshop.
Here's a look at a few delicious vegan desserts served at the potluck, and the recipe for the cupcakes is below. Enjoy!
Horchata Cupcakes
Scones from Vegan Brunch
Brownies made from a mix
Horchata Cupcakes
For the Cupcakes:
1 cup vegan horchata
1 tsp. apple cider vinegar
1/3 cup canola oil
3/4 cup sugar
1 tsp. vanilla
1 tsp. cinnamon
1/4 tsp. almond extract or vanilla extract
1 1/4 cups flour
2 Tbsp. cornstarch
3/4 tsp. baking powder
1/2 tsp. baking soda
1/4 tsp. salt
•Preheat the oven to 350°F and line the muffin pan with paper liners.
•Whisk the horchata and the vinegar together and let sit a few minutes until curdled.
•Beat together the horchata mixture, oil, sugar, vanilla, cinnamon and other extracts, if using, in a large bowl. Sift in the flour, cornstarch, baking powder, baking soda, and salt and mix until no large lumps remain.
•Fill cupcake liners two-thirds of the way and bake for 20 to 22 minutes, until done. Transfer to a cooling rack and cool completely before frosting.
For the Frosting:
2 sticks vegan margarine, softened
7-8 cups confectioner's sugar
1/2 cup vegan horchata
1/2 tsp. vanilla
1/2 tsp. cinnamon
•Whip the margarine in a mixer on high speed.
•Sift the confectioner's sugar and set aside.
•Add the horchata, vanilla, cinnamon, and 4 cups of confectioner's sugar to the margarine and beat until combined.
•Add the remaining sugar 1 cup at a time until the desired consistency and sweetness are reached.
To Assemble:
•Frost each cooled cupcake using a knife or piping bag.
•Sprinkle with cinnamon, if desired.
Makes 12 cupcakes
Respond
In This Section