The Turkey Dilemma
Written by
November 22, 2011
|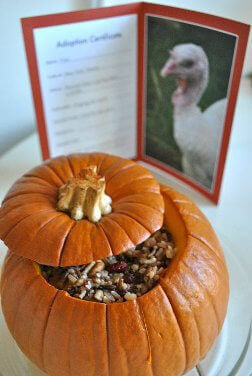 Have you been sucked into hosting Thanksgiving dinner at your home this year? Well, lucky you! While the task might seem overwhelming, remember that this offers you a great opportunity to showcase delicious vegan food and give thanks for the compassionate options that are available.
So what to do if many of your guests aren't vegan and are expecting a turkey to be on the table? First, don't be guilted into buying a bird, especially if doing so compromises your beliefs. It's on holidays like Thanksgiving when we should be reminded of, and celebrate, our most important convictions, passions, and ideals.
Some people may claim that turkey is part of the "tradition" of Thanksgiving because they connect certain memories with particular events, scents, and, yes, even tastes. But who's to say that you can't start new traditions?
To get started, plan out your meal ahead of time and make sure you're making enough for everyone, plus leave some leftovers! All your classic side dishes can easily be made vegan by swapping cow's milk for plain soy milk and using vegan margarine in place of butter. You can fool even the most carnivorous members of your family with creamy chive mashed potatoes, green bean casserole, sweet potatoes and yams, maple-glazed carrots, cranberry relish, and herb stuffing.
The centerpiece is up to you! If mock meats are your thing, you can't go wrong with holiday items from Tofurky, Gardein, or Field Roast. If you're up for the challenge, try a homemade entrée like savory pot pies, a vegan autumn harvest casserole, or a sage- and pumpkin seed–encrusted seitan with roasted garlic-pumpkin sauce.
And then I suggest topping it all off with apple dumplings, orange-cranberry upside-down cake, and pumpkin "cheesecake".
Trust me—with a menu like this, no one will miss the dead bird.
Respond
In This Section