Tour of Italy, Part 1: Insalata Caprese
Written by
August 9, 2007
|
Inspired by the recent trend toward regional foods, I decided to delve into the province of Naples in the Campania region of Italy. The first area that jumped out at me was the Island of Capri, which is known for its famous Blue Grotto, oh-so-fashionable capri pants, and, of course, the caprese salad.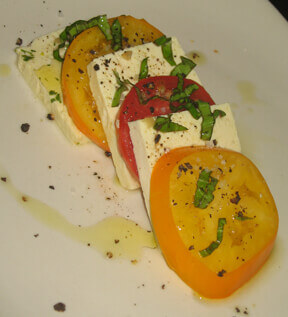 The caprese salad (a.k.a. insalata caprese) typically only requires a handful of ingredients; some of the standards are tomatoes, basil, olive oil, salt, and pepper. It's fast and simple. And best of all, it requires no cooking (thank God—it's been around 100ºF every day this week!). I have tried several versions of the salad. Sometimes I add soy cheese, sometimes I toss in a few greens, and other times I add slices of marinated tofu.
Tofu is great to work with because it is a blank canvas that soaks up any flavors you coat it with. For my insalata caprese recipe below, I made a garlic-infused broth to use as a marinade. I let the tofu sit in the marinade overnight to soak up more flavor, but if you're just looking for something that is lightly flavored, one hour of soaking will do.
Trick your eyes into thinking that you are at a fancy-pants restaurant by focusing on the presentation of your salad. Layer the tofu and tomatoes so that they fan out, and if you can find them, use both red and yellow tomatoes. This will add a nice touch.
Insalata Caprese
1/2 lb. firm tofu, drained and sliced 1/4-inch thick
2 large ripe tomatoes, sliced 1/4-inch thick
1 cup fresh basil leaves, torn
1 cup vegetable broth
1 tsp. minced garlic
1/4 cup extra virgin olive oil
Sea salt and fresh ground black pepper, to taste
In a bowl, combine 1 cup vegetable broth with the garlic.
In a shallow dish, spread out the tofu slices. Pour the broth over the tofu. Cover and refrigerate for at least one hour.
On a plate, layer the tomatoes and the tofu. Sprinkle with the remaining ingredients.
Makes 4 servings
Respond
In This Section