Top 5 Ways to 'Veganize' Thanksgiving Dinner
Many of us are thankful for animals every day and choose not to put them on our plates. Around the holidays, we're given an additional opportunity to let our compassion shine—through tasty vegan recipes that can inspire our loved ones to extend their circle of compassion, too.One of the nicest ways that you can show others how delicious vegan food can be is by preparing a cruelty-free Thanksgiving meal yourself—or at least some of it. The following are our top six recipe cheats that'll help you easily "veganize" many traditional holiday dishes:
1) Use vegetable broth in your stuffing and gravy.
If your family tends to use chicken or beef stock for everything, vegetable broth is a simple substitution that costs about the same (or less!). Your family won't even be able to tell the difference. It comes in aseptic boxes or bouillon cubes—or, if you're feeling adventurous, you can make your own.
2) Swap butter for vegan margarine.
A vegan margarine or buttery spread, such as Earth Balance, is the perfect substitute for cholesterol-laden butter. Use it exactly the same way you'd use butter in all your recipes. (Not all margarines are vegan, so be sure to check the label.)
3) Top your dessert with vegan whipped cream.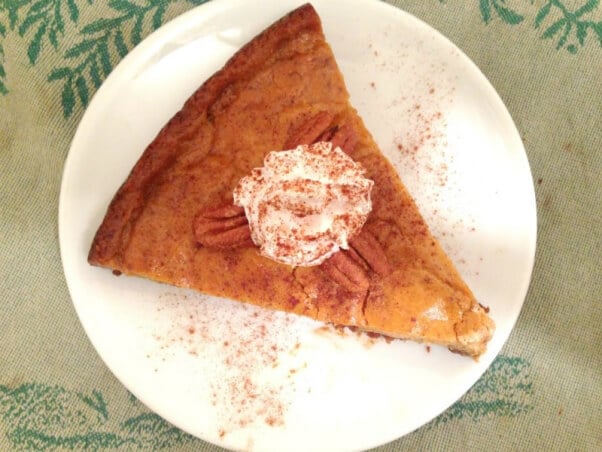 Nothing puts grumpy Uncle Bill at ease like a delicious dessert and a cup of coffee at the end of the Thanksgiving meal. A pumpkin cheesecake topped with soy or rice whip should do the trick.
4) Try dairy-free milk.
For recipes such as mashed potatoes or green-bean casserole that may call for cow's milk, simply use the same amount of soy, almond, or other dairy-free milk instead.
5) Experiment with egg replacers.
There are so many vegan egg-replacement options available—including ground flaxseeds, tofu, applesauce, bananas, and aquafaba—you'll never need to worry about skimping on delicious baked goods. For specific information about replacing eggs, refer to this page.
It's easy to "veganize" any traditional dish your family already loves—just use this handy infographic:
For even more ideas on creating a compassionate holiday feast, check out these recipes and this list of time-saving products (such as premade vegan gravy, which you can find at your local grocery store). Don't forget to include a yummy faux-meat option or other main dish to complete your masterpiece.
Too busy to go searching for tasty Thanksgiving recipe ideas? Sign up to receive PETA's holiday menu and we'll send you a recipe a day for seven days, providing you with the inspiration that you'll need to create a delicious, cruelty-free Thanksgiving meal. To get started, text THANKS to 73822 (U.S.) and your first recipe will arrive shortly. Happy Thanksgiving!
*Message and data rates may apply. Text STOP to end. Text HELP for info. Periodic messaging. Full terms are at http://peta.vg/txt.
Respond