Tomatillo Salsa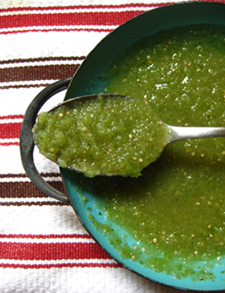 To me, exploring a new farmers' market is like going to Disney World. There are a seemingly endless number of new and exciting things to explore, every twist and turn fills me with childlike excitement, and some of the smells can be just as scary as an adult sporting an oversized mouse costume.
This weekend, I discovered a farmers' market that was predominantly divided between Hispanic and Asian cuisine—with some African, Jamaican, and American food thrown in. I was in complete awe of the freshly made tortillas, packaged and handed to me while still warm. I smelled, poked, and inspected each of the almost 20 different types of tofu offered, including one made in-house. Avoiding their freshly made soy milk was not an option. I purchased a half gallon that has an extremely nutty flavor and complements my morning coffee perfectly.
The true "score" of the trip was the abundance of fresh produce. I was immediately inspired to make grilled vegetable tacos, filled with nopalitos, king oyster mushrooms, and poblanos and, of course, topped off with fresh salsa.
I'll spare you another grilling recipe—for now, anyway—and treat you to the tomatillo salsa recipe I tried out this weekend. Enjoy!
Tomatillo Salsa
1 lb. tomatillos, paper removed and halved
Water for boiling
2 jalapeños, stemmed, seeded, and chopped
1/2 onion, chopped
1/2 cup cold water
1/4 cup chopped cilantro
2 tsp. salt
•Place the tomatillos in a saucepan and add just enough water to cover. Bring to a boil over high heat, then simmer 4 – 5 minutes.
•Transfer the tomatillos, jalapeños, and water to a blender or food processor and blend until just combined.
•Add the remaining ingredients and pulse until combined.
•Chill the salsa completely before serving.
Respond