Boozy Appetizers From 'The Tipsy Vegan' Cookbook
The following article was written by Keegan Baur.
Want to make a splash this New Year's Eve? Whether you're hosting a party, attending one, or simply lounging around at home with your loved ones, The Tipsy Vegan has 75 boozy recipes to shake things up. With this quirky and inspiring cookbook by John Schlimm in hand, you'll be making "sloshed soups, salads, and appetizers; blitzed main dishes; drunken desserts; and (of course) cocktails." These outside-the-box dishes and drinks are easy to prepare and even easier to make disappear, and they will surely impress anyone who partakes of them. For your partying pleasure, here are three spiked appetizer recipes to keep you and your fellow celebrators satiated well into the night. 2012, here we come!
Carousing Cucumber Rounds With Rummy Hummus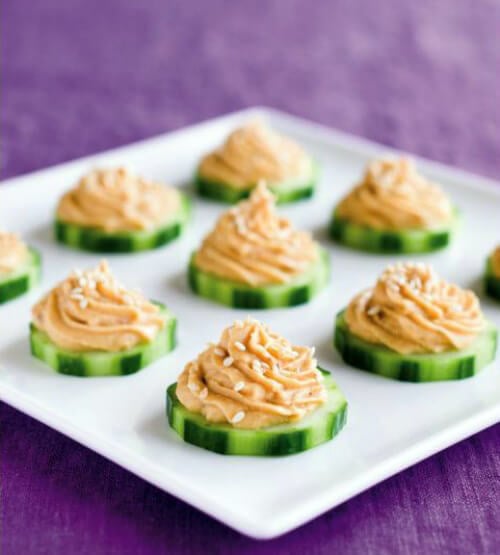 1 (14-oz.) can chickpeas, rinsed and drained
2 chipotle peppers canned in adobo sauce, stemmed, plus 1 tsp. sauce
1 large clove garlic, coarsely chopped
3 Tbsp. fresh lemon juice
3 Tbsp. tahini (mix well before measuring)
2 Tbsp. extra virgin olive oil
2 Tbsp. white rum, or to taste
1 tsp. ground cumin
1/4 tsp. kosher salt, plus extra for sprinkling
1 large English (seedless) cucumber
1 Tbsp. sesame seeds, toasted in a dry skillet until just golden
In a medium bowl, place the chickpeas, chipotles with reserved sauce, garlic, lemon juice, tahini, olive oil, rum, cumin, and salt. Purée with an immersion or a standing blender*—scraping down the sides of the bowl as necessary—about 2 minutes, until the mixture is smooth and fluffy.
With a vegetable peeler, peel the cucumber skin lengthwise at 1/4-inch intervals to create a striped pattern around the circumference and slice it crosswise into 1/4-inch rounds. (If the cucumber skin is tough, peel it entirely.) Arrange the rounds on a platter.
Lightly salt the rounds. Top each with a generous teaspoonful of hummus. Sprinkle with sesame seeds.
Makes approximately 35 hors d'œuvres
*Note: Don't use a food processor. You won't get a perfectly smooth texture.
Baked and Loaded Acorn Squash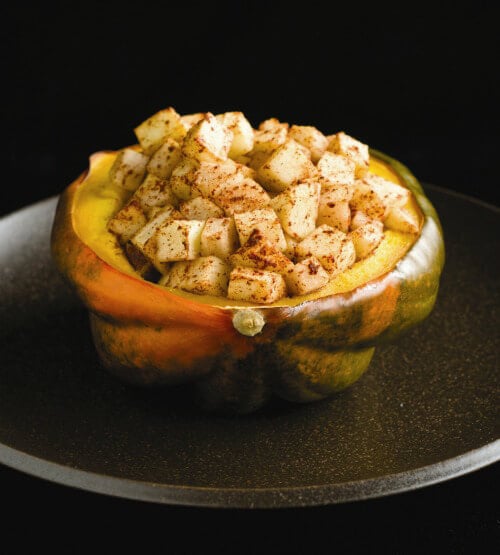 4 acorn squash, halved, with seeds and strings removed
3 Tbsp. vegan margarine or extra virgin olive oil
8 pears, peeled, cored, and diced
8 Granny Smith apples, peeled, cored, and diced
1/4 cup Calvados (apple brandy) or apple liqueur
Juice of 1 lemon
1 1/2 tsp. nutmeg
4 tsp. cinnamon powder
Preheat the oven to 400°F. Place the halved squash on a sheet pan, skin side down. If necessary, cut a slice from the rounded side to make the squash level. Place 1 teaspoonful of the vegan margarine or olive oil in each half and cover with foil. Bake until softened, about 45 minutes.
Meanwhile, combine the diced pears and apples in a bowl and drizzle with the Calvados and lemon juice to prevent browning. Add the nutmeg and cinnamon and stir until well mixed.
Spoon into the squash halves, dividing evenly. Cover with foil and bake until the fruit is warmed through, about 15 minutes. Uncover and bake until slightly browned, about 5 minutes.
Makes 8 servings
Rockin' Roasted Potatoes With Racy Rosemary and Mustard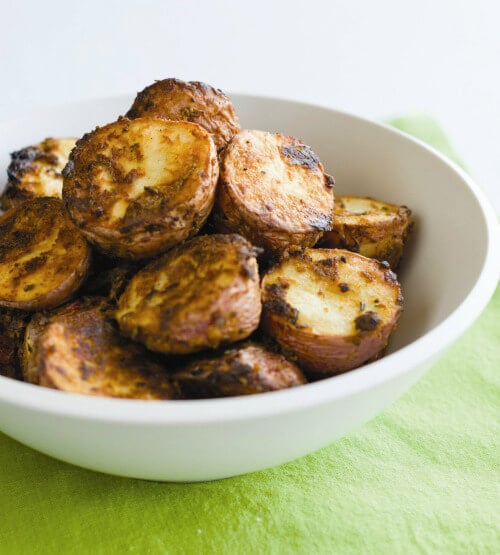 1⁄3 cup plus 1 Tbsp. Dijon mustard
1⁄3 cup extra virgin olive oil
2 Tbsp. vodka
1 Tbsp. dry vermouth or dry white wine
1 Tbsp. bottled horseradish
2 cloves garlic, pressed
1 tsp. smoked paprika
1 Tbsp. chopped fresh rosemary leaves
1 tsp. kosher salt
Pepper, to taste
1 tsp. caraway seeds
1/2 tsp. cayenne pepper
1 tsp. red pepper flakes
2 lbs. red-skinned and Yukon gold potatoes, cut into 3/4- to 1-in. cubes
Preheat the oven to 400°F. Line a large rimmed baking sheet with parchment paper.
In a large bowl, whisk together the mustard, olive oil, vodka, vermouth or wine, horseradish, garlic, paprika, rosemary, salt, pepper, caraway seeds, cayenne, and pepper flakes. Add the potatoes and toss to coat.
Spread the potatoes onto the baking sheet in a single layer. Roast, tossing with a spatula a few times, until crusty on the outside and tender inside, 50 to 55 minutes.
Makes 4 servings
Respond