It's Time to Get Vegucated!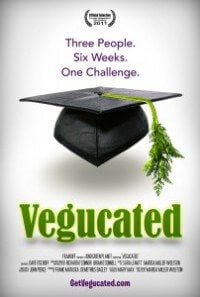 A hot new movie about compassionate living has hit the circuit, and it may be coming to a theater near you this fall!
Vegucated is a highly entertaining and inspiring award-winning documentary that tells the stories of three meat- and cheese-lovers who agree to go vegan for six weeks and learn what it's all about. Originally in it to lose weight and feel great, they have no idea that much more than steak is at stake and that the world's fate may fall on their plates. But once they start to uncover the truths about animal agriculture, they wonder if solutions offered in films like Food Inc. go far enough. But can they stick to their convictions when times get tough? Part science class, part adventure comedy, and part Super Size Me in reverse, Vegucated tells the true tale of three people who share one journey and ultimately discover their own paths in creating a kinder, cleaner, greener world—one bite at a time.
Vegetarian and vegan leaders and viewers on the conference circuit this past summer have been buzzing about the film, and its world premiere broke attendance records at the Toronto Independent Film Festival last month. Now the filmmakers are taking it on the road from sea to shining sea this fall. Writer-director Marisa Miller Wolfson will be hosting Q&A sessions after each screening.
So round up your "veg-curious" friends and family—and the skeptical ones too—and invite them to a premiere near you on the "Let's Get America Vegucated!" Autumn 2011 Tour.
U.S. Premiere in New York City
Thursday, October 13
The red-carpet reception starts at 6:45 p.m., and the film starts at 8 p.m.
SVA Theatre, 333 W. 23rd St.
Details and tickets are available here.
Meet the cast and crew at this very special hometown premiere. Get out your fancy wear and stroll on over for this very special event, with a red-carpet reception beforehand as well as a special after-party featuring some of the best vegan eats and drinks that New York City has to offer.
Midwest Premiere at the 'Show Me Justice' Film Festival
Saturday, October 15, 6 p.m.
University of Central Missouri
Details and tickets are available here.
Texas Premiere in Dallas
Saturday, October 22, 1 p.m.
Texas Theatre, 231 W. Jefferson Blvd.
Details and tickets are available here.
West Coast Premiere in Berkeley, Calif.
Monday, October 24, 7 p.m.
David Brower Center, 2150 Allston Way
Details and tickets are available here.
San Francisco Premiere
Tuesday, October 25, 7 p.m.
Victoria Theatre, 2961 16th St.
Details and tickets are available here.
Los Angeles Premiere
Thursday, October 27, 7 p.m.
The Landmark Movie Theatre, 10650 W. Pico
Details and tickets are available here.
Minneapolis Premiere
Monday, November 7, 7 p.m.
Riverview Theater, 3800 42nd Ave. S.
Details and tickets are available here.
Philadelphia Premiere
Thursday, November 10, 7:30 p.m.
Ritz East, 125 S. Second St.
Details and tickets are available here.
D.C. Premiere
Wednesday, November 9, 7:30 p.m.
Landmark's E Street Cinema, 555 11th St. N.W.
Details and tickets are available here.
Visit GetVegucated.com to stay in the loop as new cities are added to the tour and to sign up to host a screening in your community … or even your living room!
Let the vegucation begin!
Respond