Thick, Creamy, and Frothy Raw Chocolate Milk
The following was adapted from an article by Carissa Leventis-Cox of Mama in the Kitchen, and she ain't cookin'!
Lately, my family has been loving our DIY Raw Almond Butter with lots of holiday chocolate milk! I don't mean the thin, watery kind of chocolate milk. I'm talking about the thick, creamy, and frothy kind that reminds me of wintry Frosty-the-Snowman days and the scent of our Christmas tree. I love this!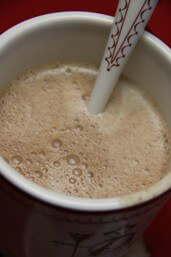 Raw Vegan Chocolate Milk
1/4 tsp. alcohol-free vanilla extract
1 tsp. cinnamon powder or 1 drop peppermint oil
1-2 Tbsp. raw cacao powder
2 Tbsp. raw almond butter (homemade or store-bought)
5 large pitted dates
2 cups water
In a blender set on high speed, purée all the ingredients until frothy and serve.
Makes 2 large or 3 small servings 
Respond