Thai Tofu Salad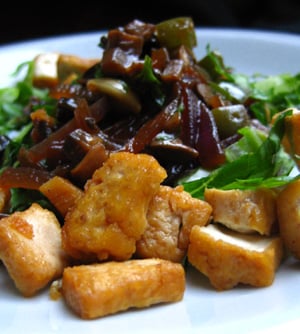 My favorite recipes are those that you create at home on the fly, with whatever ingredients happen to be left over in your fridge. Sure, sometimes it is a complete disaster, but other times the results are amazing.
My most recent "recipe on the fly" was a Thai-inspired tofu salad. I reduced a handful of leftover veggies in soy sauce and the spicy Thai sauce known as Sriracha and then threw in a little basil for freshness. Like usual with my Asian at-home dishes, I served it with tofu that is cooked until golden brown and chewy and then coated with a splash of soy.
I would venture to say that one of the most common mistakes made by people trying to prepare tofu is not cooking it properly. Many people aren't sure how to handle it, and so it often ends up in not-too-pleasing crumbles. But if you pan-fry small tofu cubes in a healthy dose of oil for about 15 minutes, while stirring often to prevent sticking, you will be left with tofu that is chewy and delicious. All the mushiness and bland flavor will be gone, and it becomes the perfect canvas for Asian ingredients. Enjoy!
Thai Tofu Salad
3 Tbsp. oil
1/2 pkg. firm tofu, diced
2 Tbsp. soy sauce
1/4 cup diced red onion
1/4 cup diced bell pepper
1/4 cup diced button mushrooms
1 clove garlic, minced
1 tsp. Sriracha
1 Tbsp. chopped basil
2 cups chopped lettuce
Shredded carrots, for garnish
•Place a medium sauté pan or wok over high heat and add 2 tablespoons of the oil. Add the tofu and stir-fry until golden brown, about 15 minutes. Add 1/2 tablespoon of soy sauce, stir, and then remove from the heat and set aside.
•Add the remaining oil to a clean pan over medium heat. Add the onion and peppers and cook for about 3 minutes, then add the mushrooms and garlic and cook for an additional minute. Add the remaining soy sauce and the Sriracha sauce, stir, and cook until reduced.
•Once reduced, stir in the chopped basil and remove the pan from the heat.
•Place half of the tofu and half of the vegetable mixture over 1 cup of lettuce, then garnish with shredded carrots.
Makes 2 salads
Respond