Mouthwatering Tempeh Reuben Sandwiches
Written by
August 29, 2012
|
When I'm in the mood for a sandwich, this is the one that immediately comes to mind. The hearty flavor of the tempeh combined with the tanginess of the sauerkraut and Thousand Island dressing and creaminess of the vegan cheese makes this sandwich top-notch.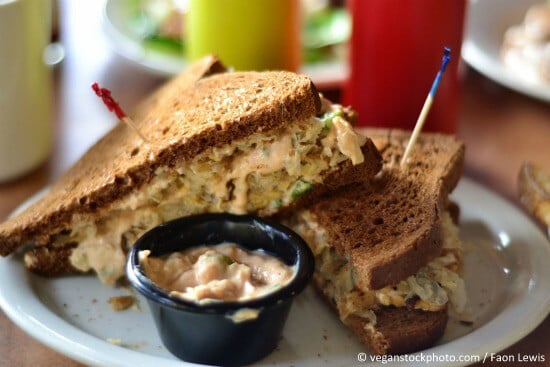 Are you looking for a meal that's bursting with flavor? Try this vegan Reuben sandwich, and see what all the fuss is about!
Tempeh Reuben Sandwiches
2 cups vegetable broth
2 cloves garlic, minced
2 Tbsp. soy sauce or tamari
1/4 small white or yellow onion, diced
8 oz. tempeh, cut into four equal squares
8 slices bread (gluten-free bread works great for this recipe!)
1/2 cup vegan Thousand Island dressing (many are accidently vegan or make your own)
1 cup sauerkraut
1 cup shredded or sliced vegan cheese
Combine the broth, garlic, soy sauce, and onion in a large skillet over medium heat. Allow to heat thoroughly.
Add the tempeh and bring to a boil.
Reduce to a simmer and cover. Cook for approximately 20 minutes.
Preheat the oven to 400˚F.
Toast the bread until golden brown and spread with the dressing. Place 4 slices on a baking sheet and add the sauerkraut, vegan cheese, and tempeh in layers. Top with the remaining bread slices.
Bake for approximately 10 minutes, flipping halfway through.
Serve immediately.
Makes 4 sandwiches
Respond
In This Section