'Superfood Cuisine': Hemp Hummus
The following article was written by Keegan Baur.
Looking for a simple snack that will fill you up without weighing you down? Hummus is a staple item in my fridge, and it's what I grab when I need a mid-afternoon boost of energy. However, the hummus is always store-bought—I've never perfected my own version of this garbanzo bean dip. Luckily, Julie Morris' book, Superfood Cuisine: Cooking With Nature's Most Amazing Foods, has just such a recipe, and Julie has been gracious enough to share it with us!
Thanks to the hemp seed ingredient, this week's superfoods post is loaded with protein, essential fatty acids, iron, and chlorophyll—a natural detoxifier that cleanses and strengthens your vascular system. This spread can be eaten with crackers and raw veggies or slathered on sandwiches and wraps. But because it's just as healthy as it is delicious, I hope no one will judge me if I pick up a spoon and start eating it straight from the bowl!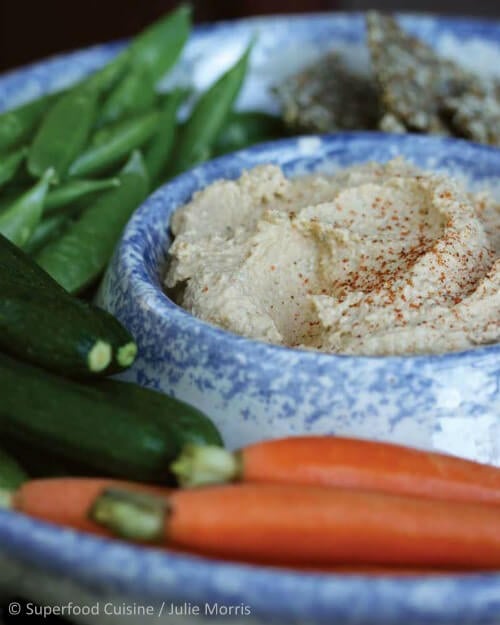 Hemp Hummus
1 1/2 cups garbanzo beans (freshly sprouted or cooked, unsalted)
2 Tbsp. tahini
1/4 cup hemp seeds
1 Tbsp. EFA oil
1 1/2 tsp. garlic powder
1/3 cup fresh lemon juice
3/4 tsp. sea salt
1/2 tsp. smoked paprika (optional)
In a large food processor, blend all ingredients until smooth and creamy.
Transfer to a bowl and serve.
Will keep for one week, refrigerated.
Makes about 2 cups
For more tips and recipes from Julie, check out her blog or download a free superfood booklet!
Adieu until next Thursday's recipe post!
Respond