Summery Lemon Sugar Cookies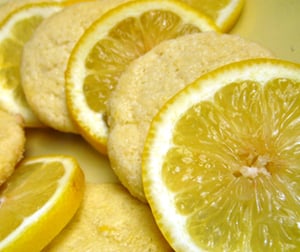 Citrus is often used to cleanse the palate, which is great after eating food that is very rich, salty, or fatty. A lesser known use is consuming citrus, especially lemon, to make you feel less full during or after a meal—this can be a very dangerous thing.
Using lemon to create what feels like an extra square inch or two in your tummy during an occasional indulgent meal isn't really a problem, but when you've incorporated lemon into an everyday dessert, like cookies, and you realize that you could literally eat all of them, well, that might not be so good.
The lemon sugar cookie recipe below contains a healthy dose of sugar, margarine, and flour, but the cookies still taste light and refreshing and don't leave you feeling very full, so you are tricked into eating too many. Darn lemon! They are delicious, so it might not be too bad…
Enjoy the cookies, but eat with caution!
Lemon Sugar Cookies
1 2/3 cups granulated sugar
2 tsp. pure lemon oil (not extract)
2 1/2 cups all-purpose flour
1/2 tsp. baking soda
1/4 tsp. salt
1 cup (2 sticks) margarine, preferably unsalted, at room temperature
1/3 cup lemon zest
1/4 cup soft silken tofu
2 Tbsp. fresh lemon juice
Preheat the oven to 400°F. Grease 2 baking sheets and set aside.
Stir together 2/3 cup of the sugar and 1 tsp. of the lemon oil in a small bowl. Set aside.
In a medium bowl, sift together the flour, baking soda, and salt. In a large bowl, beat the margarine, the remaining 1 cup of sugar, the remaining 1 tsp. of lemon oil, and the zest with an electric mixer until light and fluffy. Add the tofu and beat until well-blended. Reduce the speed to low, add the flour mixture and lemon juice, and beat just until blended.
Form the dough into 1-inch balls, roll them in the sugar-lemon oil mixture to coat, and place them on the baking sheets, allowing room for them to spread. Flatten each ball with the bottom of a glass.
Bake one sheet at a time for 8 to 10 minutes, until the edges are lightly browned. Remove the cookies from the baking sheet and let them cool on a wire rack.
Makes 4 dozen cookies
Respond