Summer Salads: Three-Bean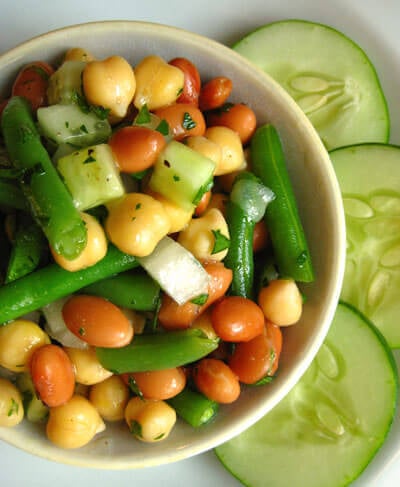 I've always had a slight aversion to the typical three-bean salad made with kidney beans, green beans, and wax beans. But it's not the salad's fault. Before this weekend, I had only tried three-bean salads after they had been sitting on a salad bar for who knows how many hours. To give the salad a fair chance, I decided to make my own version this weekend.
It was built around kidney beans, green beans, and chickpeas. Most versions I've tried use wax beans, but I'm not a huge fan, so I opted for chickpeas instead. The dressing that brought all the ingredients together was typical for a bean salad—apple cider vinegar, sugar, oil, salt, and pepper—and to add a summery lightness to it all, I threw in diced cucumber and chopped parsley. In the end, it was much tastier than the salad-bar version I was used to, and it only takes minutes to make. Enjoy!
Summer Three-Bean Salad
For the dressing:
1/3 cup apple cider vinegar
1/4 cup sugar
1 1/2 tsp. salt
1/2 tsp. pepper
1/4 cup olive oil
•Combine the vinegar, sugar, salt, and pepper in a food processor.
•With the food processor turned on, slowly add the olive oil until the mixture is well combined.
•Set aside.
For the salad:
1 can chickpeas
1 can kidney beans
1 cup cooked green beans, cut into 1 inch pieces
1 cup flat leaf parsley, chopped
1/2 onion, diced
1/2 cup cucumber, diced
Dressing from above
Salt and pepper, to taste
•In a medium mixing bowl, combine the chickpeas, kidney beans, green beans, parsley, onion, and cucumber.
•Add half of the dressing and stir until just combined. Taste the salad and add more dressing if desired, then season with salt and pepper to taste.
•Cover the salad and refrigerate for at least one hour or until ready to serve.
Makes 8 servings
Respond