Stuffed Grape Leaves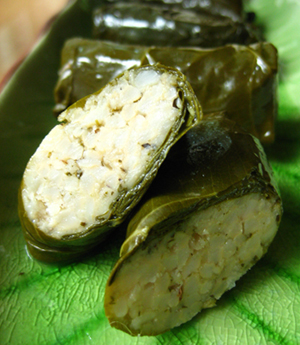 Today's post is going to be nice and short because I'm back in Virginia for PETA's summer par-tay. It's almost as hot here as it was in Atlanta, so I'm featuring a recipe that is cool, light, and refreshing—dolma.
Dolma can refer to a variety of stuffed vegetables, but people often use the term to mean stuffed grape leaves. A variety of fillings can be used, and ingredients such as dill, lemon, and rice are some of the most common ingredients that make it into the mix, and they combine to make the most refreshing dolma, in my opinion. But let me know if you have other interesting fillings you like to use instead. Enjoy!
Dolma (Stuffed Grape Leaves)
2 Tbsp. olive oil
2 onions, minced
1 1/2 cups white rice, uncooked
Hot water
1 tsp. dried mint
1 Tbsp. dried dill weed
Salt and pepper, to taste
1 8-oz. jar grape leaves, drained
Juice of 1 lemon
•Heat 1 tablespoon of the oil in a saucepan over medium heat.
•Add the onions and sauté until tender. Stir in the rice and just enough hot water to cover the rice. Cover the saucepan and simmer until the rice is half cooked, about 10 minutes.
•Remove the saucepan from the heat and stir in the mint, dill weed, salt, and pepper, then allow the mixture to cool.
•Rinse the grape leaves in warm water, drain, and cut off the stems. Place about 1 tablespoon of the cooled rice mixture onto the center of each leaf. Fold in the sides and then roll into a cigar shape.
•To protect the stuffed grape leaves from direct heat during steaming, place a steaming basket or bowl in a large pot and add the stuffed grape leaves to the basket or bowl.
•Pour in just enough hot water to reach the bottom of the first layer of grape leaves. Cover and simmer over low heat for 30 to 45 minutes, or until the rice is completely cooked. Check the water level often and add more as necessary.
•Combine the lemon juice and remaining tablespoon of oil in a small dish and sprinkle over the cooked dolma before serving.
Makes 8 servings
Related Posts
Respond