Split-Pea Soup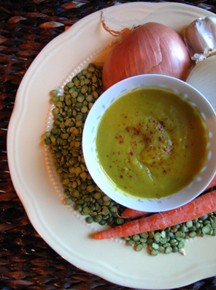 Many are afraid of this creamy green soup, partially because of its starring role in the film The Exorcist—but you need not be. Split-pea soup is simple, nonthreatening, and satisfying—the perfect item for a dreary day, like this one here in Atlanta.
You might not have much luck getting your kids or even other adults to eat this one, but that just means more for you. Enjoy.
Split-Pea Soup
2 cups dried green split peas, rinsed
8 cups water
3 Tbsp. or 3 cubes faux chicken or vegetable bouillon
2 medium potatoes, diced into large pieces
2 large carrots, coarsely chopped
3 stalks of celery, coarsely chopped
1 large onion, coarsely chopped
2 cloves garlic, minced
2 tsp. dry mustard
1/8 tsp. allspice
1 tsp. cumin
1 tsp. sage
1 tsp. thyme
2 bay leaves
Salt and pepper, to taste
In a large pot, bring the peas and water to a boil.
Lower the heat, add the remaining ingredients, and simmer for 1 1/2 to 2 hours, or until the peas are very soft.
Remove the bay leaves. Pureé the soup in a blender until smooth, and then serve.
Makes 6-8 servings
Respond