Spiral Diner and Bakery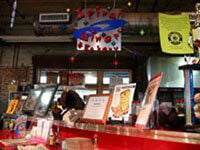 1314 W. Magnolia Ave.
Fort Worth, TX 76104
Hours
Tuesday to Saturday: 11 a.m. to 10 p.m.
Sunday: 11 a.m. to 5 p.m.
Monday: Closed 
Spiral Diner: A New Twist to Classic Truck-Stop Fare
Next time you' re deep in the heart of Texas, make a rest stop at the Spiral Diner & Bakery. From breakfast burritos and veggie burgers to homemade vegan pies and "I Scream," Spiral has all the hearty, comfort food you' d expect at a diner, without the artery-clogging fat and cholesterol.
"Everything on the menu, and even on the retail shelves, [is] vegan. … Anyone who lives in or visits Fort Worth … must try a meal (or two or three) at the Spiral Diner & Bakery. It' s absolutely delicious!" raves local fan Jennifer Farley.
If you've got a hankering for barbecue, try Spiral' s Jamaican Jerk BBQ sandwich. You' ll get a generous slab of marinated, blackened tempeh with grilled pineapple and fixin' s. For some Asian flavor, try the Spicy Peanut Greens complete with buckwheat soba noodles, carrots, broccoli, and collard greens served with a peanut-coconut sauce.
Like any self-respecting diner, Spiral serves breakfast all day long, including Country-Style Breakfast Burritos and Tofu Rancheros. The breakfast burrito is packed with veggie sausage, potatoes, tofu, red bell pepper, tomatoes, onion, and salsa. Tofu Rancheros swap eggs for heart-healthy tofu, along with black beans, olives, corn, and roasted poblano peppers. Both dishes include vegan sour cream and corn chips.
The Fort Worth eatery gives new meaning to the phrase "less is more." The Hot Dog-less Dog is served on an organic whole-wheat bun with or without vegetarian chili. The Chik' n-less Burger is a breaded low-fat patty topped with lettuce, tomato, vegan mayo, and more. Both are served with a generous scoop of potato salad or corn chips. Add a root beer "I Scream" float and finish off with a slice of warm apple pie, and you' ve got the perfect all-American meal.
Recipes From Spiral Diner and Bakery
Sweet Potato Pie
4 cups sweet potato
2 Tbsp. margarine
2 cups soy milk
1 cup sugar
2 tsp. molasses
1 tsp. almond extract
1 tsp. vanilla
2 tsp. cinnamon
1 tsp. salt
1/2 tsp. nutmeg
1/2 tsp. ground ginger
1/4 tsp. cardamom
1 Tbsp. egg replacer
2 unbaked pie shells
Place all ingredients in a mixer (except the pie shells) and mix slowly until everything is combined. Then mix on high for a few minutes until there are very few lumps left. Prebake two pie shells for 7 minutes at 350F with convection on. Fill shells all the way to the top and bake at 350F with convection on for 1 hour. Pies should not jiggle very much when you take them out of the oven. Let them cool, then cover and put in fridge to chill before serving.
Makes two pies.
Ranch Dressing
1/2 cup Nayonaise
1/2 cup Veganaise
1/4 cup soy milk
1/2 tsp. garlic salt
1/2 tsp. garlic powder
1/2 tsp. onion powder
1/2 tsp. black pepper
2 rounded tsp. fresh chopped parsley
1-1/2 tsp. apple cider vinegar
1/4 tsp. dill
Put all ingredients in the blender and blend until creamy.
Makes approximately one cup.
Sister's Pie Crust
(from PETA's Compassionate Cookbook)
2 cups unbleached all-purpose flour
1 tsp. salt
1/4 cup cold water
3/4 cup solid vegetable shortening
Stir the flour and salt together in a bowl. Remove 1/3 cup of the flour mixture and mix with the cold water to make a paste. Set this aside. With a pastry cutter or fork, cut the vegetable shortening into the remaining flour mixture until the texture become "pebbly." Add the paste to the flour-shortening mixture and mix until it can be shaped into a ball. Divide into two parts.
Lightly flour your rolling surface (a clean countertop or large wooden board) and your rolling pin. Roll one portion of the pie dough at a time. Roll from the center out, lifting the roller at the end of the dough (rather than rolling back and forth). Roll to a 1/8-inch thickness.
Have an 8- or 9-inch pie pan ready. The rolled dough circle should be at least 2 inches larger than your pie pan. Loosen the pastry from the rolling surface, fold it in half, lift it and lay it in the center of the pie pan. Unfold the pastry, gently working it into the pie pan, and press lightly. Trim off the excess dough with a knife. You can make a design around the edge of the pan using your fingers or a fork.
Respond