Spicy Peanut Sauce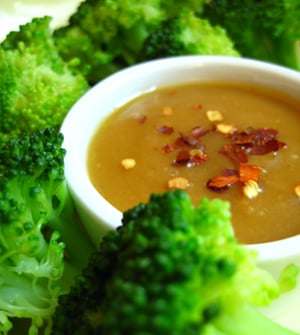 There are two great restaurants where I have worked that each have their own unique take on a peanut sauce. At The Grit, it is a thick and sort of sweet condiment that often looked more like a peanut butter rather than a peanut sauce—and it is delicious, of course. At Real Food Daily, the sauce is thinner—more like a dressing—and mixed with cayenne and chili flakes for some kick.
The RFD sauce is the type I prefer (and have attempted to recreate here), but I like to combine it with The Grit's serving style—as a dipping sauce for crunchy, steamed broccoli.
The result is spicy peanut broccoli that has a full broccoli flavor. Sautéing the sauce and veggie together sometimes coats the broccoli too much, masking the flavor. But by dipping, you can make sure you get the ratio just right. If "full flavored broccoli" isn't for you, go ahead and just smother it with the sauce. It will be delicious too.
Spicy Peanut Sauce
1/2 cup smooth peanut butter
2 Tbsp. maple syrup
2 cloves garlic, peeled
1 inch piece of ginger, peeled and chopped
1/4 cup rice vinegar
1/4 cup sesame oil
1 cup water
1 tsp. cayenne pepper
1 tsp. cumin
2 tsp. red chili flakes
Salt, to taste
•In a large blender, combine all the ingredients, adding the water a little at a time to control the consistency. Season with salt to taste.
Makes about 2 cups
Respond