Spanish Summer Gazpacho
Written by
Amy Snyder
|
August 2, 2007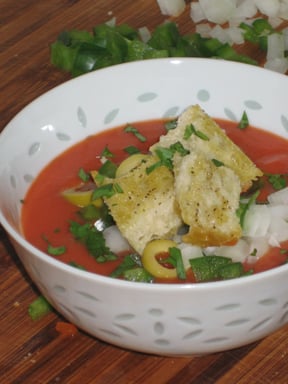 When it's hot outside, it's hard to think about eating anything warm. Most summer days, I feel like I'm being smothered by the heat and humidity, so the last thing I want to do is increase my body temperature with warm food. On hot nights, cold salads and soups make the perfect meal. Luckily, my mother's garden is full of tomatoes, cucumbers, bell peppers, and basil—key ingredients in most gazpacho recipes. I say "luckily" because I am not gifted with a green thumb. I don't think I will ever be able to grow my own garden, and I base this on the fact that I've accidentally killed every plant I've ever had. So I take advantage of my mom's garden and do a little "shopping" there when I can.
Gazpacho is one of the most well-known chilled soups. Most people are familiar with this classic red soup with a thin broth and minced veggies, but I desired something with more body and a slightly different flavor profile. After some research, I stumbled upon Spanish Andalusian gazpacho. Bread is added to the broth, which is then puréed, making it thicker. The result is a soup that is rich and creamy without being overpowering.
What also makes Andalusian gazpacho stand apart is that instead of having the chopped vegetables already mixed in, the diner adds them to taste. That means I can get as crazy as I want. I love to load my soup up with lots of veggies and olives, while my boyfriend piles the croutons high and adds hot sauce.
The best part of gazpacho is that it keeps for days and gets more flavorful the longer it sits. So make a big batch and you'll have lunch for the week.
Andalusian Gazpacho
For the Soup:
3 slices day-old white bread, crusts removed, cubed
1 cup cold water or vegetable broth
3 garlic cloves, peeled and chopped
1 green pepper, cored, seeded, and cut into chunks
4-8 ripe red tomatoes, peeled and seeded*
6 Tbsp. white wine vinegar
5 Tbsp. extra-virgin olive oil
Sea salt, to taste
Black pepper, to taste
Dash of sugar
Soak the bread in the water and remove, squeezing out as much water as you can. Purée in a blender with the garlic, pepper, tomatoes, vinegar, and olive oil. Add the salt, pepper, and sugar. If too thick, add water. Chill for 2 hours or overnight.
For the Croutons:
2 slices day-old bread, cubed
3-4 Tbsp. extra-virgin olive oil
Sea salt and black pepper, to taste
Toss the bread with the olive oil and sprinkle with the salt and pepper.
Spread in a single layer on a baking sheet. Bake at 400°F for 10 minutes, or until golden, tossing halfway through. Remove to a serving bowl.
To Assemble:
1 tomato, seeded and diced
1 cucumber, peeled, seeded, and diced
1 small onion, peeled, seeded, and diced
1 green bell pepper, seeded and diced
1/4 cup sliced Manzanilla olives
1/4 cup chopped fresh basil
Hot sauce
Place each of the vegetables and the basil in separate serving bowls. Serve with the soup, croutons, and hot sauce.
*Note: To peel the tomatoes, place in boiling water for 1 minute. Remove and carefully cut an "x" into the skin, then peel.
Makes 6 servings
Respond