Smothered in Espagnole Sauce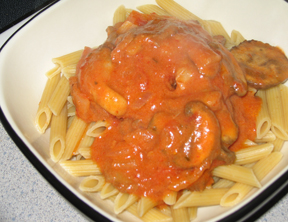 I couldn't resist the urge to try Sublime's mushroom stroganoff when I noticed that the recipe calls for espagnole sauce and contains all my favorite mushrooms—cremini, oyster, and shiitake.
Espagnole is a classic brown sauce, typically made from a dark roux, a brown stock, and tomato sauce. The French master sauce is often used as a base for other sauces, such as Madeira and bordelaise, and has a super-rich flavor whether it's on its own or just a base. The richness is exactly why I was happy to see that this recipe asks you to practically smother the mushrooms in the espagnole sauce—I can't get enough.
My local Whole Foods had all the ingredients for the espagnole, but I must admit that making it on your own can be rather labor intensive. If that is out of the question for you, just use a high-quality tomato sauce for this stroganoff instead.
Wild Mushroom Stroganoff
by Sublime Restaurant
1 Tbsp. extra virgin olive oil
1 medium diced yellow onion
1 cup quartered cremini mushrooms
1 cup quartered shiitake mushrooms
1 cup quartered oyster mushrooms
1 Tbsp. whole-wheat pastry flour
4 cups espagnole sauce (see recipe below)
1/2 cup soy sour cream
1 Tbsp. ground mustard
Cooked pasta of your choice
4 Tbsp. chopped parsley
•Heat the oil and sauté the onion and mushrooms. Sprinkle in the flour and cook to a paste. Add the espagnole sauce and cook at a slow simmer for 20 minutes. Mix the soy sour cream and mustard together. Pour into the sauce and heat throughout.
•Serve over cooked pasta of your choice, and garnish with the parsley.
Makes 4 servings
Espagnole
1 small carrot, chopped
1 medium white onion, chopped
1/4 cup margarine
1/4 cup flour
4 cups hot vegetable stock, preferably vegan beef flavor
1/4 cup canned tomato purée
2 large garlic cloves, chopped
1 celery rib, chopped
1/2 tsp. whole black peppercorns
1 bay leaf
•In a heavy saucepan over medium heat, cook the carrot and onion in the margarine until golden. Add the flour and whisk to form a roux. Continue to cook until the roux is medium brown.
•While whisking, add the hot stock, being sure to prevent lumps. Add the tomato purée, garlic, celery, peppercorns, and bay leaf.
•Bring to a boil, stirring constantly. Reduce the heat and simmer, uncovered, until reduced to 3 cups, stirring frequently.
•Remove the solids from the sauce before serving.
Note: The sauce can be frozen in ice cube trays to use as a quick addition to recipes.
Makes 3 cups
Respond