Gourmet Slow-Cooker Recipes Made Easy!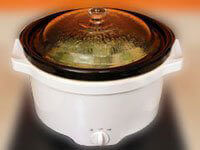 Don't have time to cook? Before leaving for work or school or to run errands, take 10 minutes to prepare a satisfying meal that will be ready by the time you get home for dinner. Using a slow cooker, you can create everything from satisfying stews to hearty curries and decadent chocolate cake.
Preparing a slow-cooker dish is easy. Combine all the ingredients in the appliance, turn it to the correct temperature setting, and let your meal cook all day for a no-fuss dish that is sure to delight!
Try our delicious vegan slow cooker dishes for easy, one-dish meals or desserts. Whether you're making dinner or a dish for a potluck, these recipes are guaranteed to satisfy.
Entrées
Slow-Cooker Chili
Italian 'Chicken' With Brown Rice
Slow-Cooker Chow Mein
Make-It-and-Leave-It Lasagne
Not Your Mama's Pot Roast
Slow-Cooker Cassoulet
Soups and Stews
Slow-Cooker Lentil Soup
Mushroom-'Beef' Stew
Southwestern Dumpling Soup
'Cream' of Mushroom Soup
Old-Fashioned Vegetable Soup
Chinese Hot Pot
Sides
Boston Baked Beans
Spicy Stuffed Onions
Mac and 'Cheese' Florentine
Balsamic-Braised Root Vegetables
Desserts
Peanut Butter–Chocolate Slow-Cooker Cake
No-Fuss Rice Pudding
Easy Apple Cobbler
Pumpkin Pudding Pie
Search for more vegetarian recipes.
Respond