Slow-Cooked Collards Over Polenta Cakes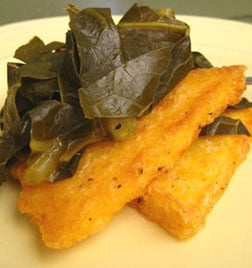 Is anyone else in shock that both Christmas and Hanukkah have come and gone, Kwanzaa is here, and the new year is just days away? To save time during the busy—and food-focused—holiday season, I decided to go for a multitasking recipe for today's entry.
Collard greens are a Kwanzaa and New Year's Day staple in many households, especially in the South, and definitely fit the "will work for more than one holiday" requirement. You could make these for Kwanzaa and serve the leftovers on New Year's Day—if there are any.
Serving the soft greens over fried polenta cakes makes the usual side dish more of a main course. And by adding a large helping of vegan Hoppin' John on the side, you'll have a multitasking meal, not just one recipe.
Slow-Cooked Collards Over Polenta Cakes
For the Collards:
1 large bunch collard greens
1 1/2 Tbsp. olive oil
1/2 onion, sliced
1 garlic clove, minced
1 chipotle chili pepper
2 bay leaves
1 quart vegetable broth
1 Tbsp. apple cider vinegar
1 tsp. sugar
Salt and ground black pepper, to taste
•To prepare the greens, cut away the tough stalks and stems and discard any leaves that are bruised or yellow. Wash the collards two or three times thoroughly to remove the grit and chop into large pieces.
•Place a large pot over medium heat and add the olive oil. Add the onion, garlic, chipotle and bay leaves. Cook until the onions are soft and starting to brown, about 8 to 10 minutes. Pack in the greens, pushing them down into the pot. Add the broth, vinegar, and sugar. Bring to a boil, turning the greens over occasionally with a wooden spoon as they wilt. Lower to a simmer, cover, and let cook for 45 minutes.
•Season with salt and pepper and cook, covered, for 15 more minutes.
•Remove the bay leaves and chipotle, and set aside.
For the Polenta:
4 cups low-sodium canned vegetable broth
1 tsp. salt
1/2 tsp. ground white pepper (plus more, to taste)
1/2 tsp. cayenne pepper
1 cup instant polenta
2 Tbsp. nutritional yeast flakes
Flour for dredging
1/4 cup olive oil
•Grease a half-sheet pan (about 12 by 17 inches) with nonstick spray, line it with parchment paper, and grease the parchment paper. Set aside.
•Bring the broth, salt, white pepper, and cayenne to a boil in a medium saucepan over high heat. Gradually pour in the polenta and nutritional yeast flakes while whisking constantly. Reduce the heat to a simmer and cook, stirring constantly, until the polenta is thick, about 5 minutes.
•Spread the polenta in an even layer about 1/2-inch thick in the prepared pan and refrigerate until set and firm, at least 1 hour.
•When firm, turn the polenta out onto a clean cutting board. Using a 1 1/2-inch round or square cutter, cut into small cakes. Put some flour on a plate and season with salt and pepper, to taste. Dredge the cakes in the seasoned flour.
•Heat the olive oil in a large skillet and fry the cakes, in batches, until golden brown, about 3 to 4 minutes per side. Remove from the pan and drain on a paper towel-lined plate.
•Top each cake with some of the collards and serve.
Related Posts
Respond